Whether you are looking for a gentle stroll or a longer hike, we have some fantastic walking trails in Bedfordshire, Cambridgeshire and Northamptonshire. So head out for a walk, and enjoy some of our nature reserves along the way!
Please refer to Natural England's guide to enjoying the countryside:
Great Fen Last of the Meres and Northen Loop (Cambridgeshire)
The Last of the Meres trail is a 6.5 miles/ 10.4 kms circular walk connecting the northern parts of the Great Fen. It extends from newly restored areas at New Decoy Farm to the historic site of Engine Farm, through to the woodland of Holme Fen and back via the old Holme to Ramsey railway line. The Last of the Mere Northern Loop is a circular trail extending the existing trail. 
There are also number of shorter trails around Great Fen: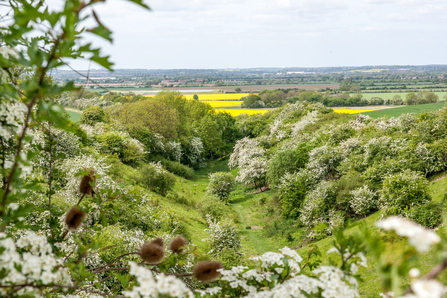 Greensand Ridge Walk (Bedfordshire)
Walkers on the 40-mile Greensand Ridge Walk through central Bedfordshire are led through the Greensand Country Living Landscape. Following the Greensand Ridge, a distinctive feature that rises from surrounding clay vales, the path passes very close to several spectacular nature reserves of heathland and woodland habitats, including King's Wood and Rammamere Heath - alive with woodland flowers in the spring, and a wash of purple heather in the summer - and Old Warden Tunnel with its oasis of wildflowers and spectacular views. The eastern end of the walk is also close to Gamlingay Wood and Waresley and Gransden Woods all ancient woodlands in Cambridgeshire renowned for spring bluebells and oxlips.
The route is split into five sections (PDFs courtesy of the Central Bedfordshire Council):
Nene Way (Northamptonshire)
The Nene Valley is a rich mixture of wetland habitats, managed for people and wildlife as a Living Landscape by the Wildlife Trust for Bedfordshire, Cambridgeshire and Northamptonshire. Walkers on the long-distance Nene Way - particularly on the Cogenhoe to Irthlingborough section - pass by some spectacular wetland reserves that are key habitats for a large number of breeding and migrating waders and wildfowl and other wildlife. Summer Leys offers brilliant views from its various hides popular with photographers, and the path wends right through the heart of the Nene Wetlands - an extensive series of shallow and deep open waters, surrounded with a rich range of habitats including reed swamp, marsh, wet ditches, rush pasture, rough grassland and scattered scrub. Stop off at the Nene Wetlands Visitor Centre for all the latest information, nature gifts and wildlife sightings, and a cup of tea or coffee at the neighbouring cafe.
Further north, the Nene Way also skirts past Titchmarsh nature reserve, a wetland site with a wide variety of birds and butterflies, and past the ancient woodland of Old Sulehay with its amazing woodland flora and glow-worms in the summer.
There are five sections (PDFs courtesy of the Northamptonshire County Council):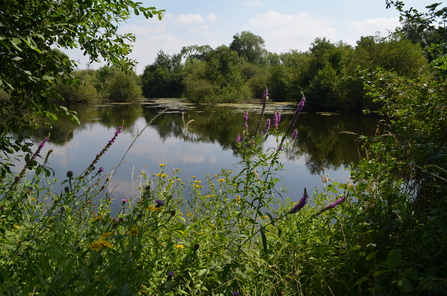 Ouse Valley Way (Bedfordshire and Cambridgeshire)
Long distance walkers on the Ouse Valley Way pass through very close to several reserves through Bedfordshire and Cambridgeshire, with a wide range of rich habitats and wildlife alongside the winding River Great Ouse. Gravel extraction has created a network of flooded pits and wetland habitats, including those at Godmanchester nature reserve, Felmersham Gravel Pits nature reserve and Paxton Pits, where otters, kingfishers and dragonflies and damselflies thrive in a mixed wet landscape of river, lake, wetland, wood and meadow. 
There are three sections (PDFs courtesy of the Ivel and Ouse Countryside Project):
Pitsford Water (Northamptonshire)
The 7-mile circuit path on beautiful Pitsford Water Nature Reserve offers a rare feeling of wilderness in the heart of Northamptonshire. Open to permit-holders only (members of the Wildlife Trust for Bedfordshire, Cambridgeshire and Northamptonshire get a free permit, or you can buy day tickets from the fishing lodge) and with no access for dogs, the tranquil paths and hides offer expansive views across the reservoir, which has been designated a Site of Special Scientific Interest for its large numbers of wildfowl since 1970: up to 10,000 birds can be seen here in winter. The wide mix of habitats also offer shelter to mammals including harvest mice, badgers and brown hares, as well as other bird life including large flocks of winter thrushes and migrant songbirds. 777 species of moth have been recorded here in total over 20 years of nightly trapping.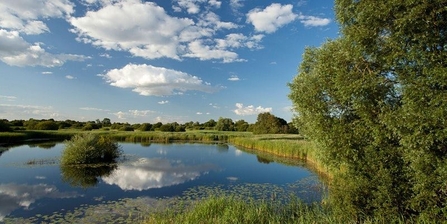 Rothschild Way (Cambridgeshire)
A 39-mile route between two of the oldest nature reserves in the country - Wicken Fen and Woodwalton Fen. The Rothschild Way takes you through the Great Fen, a landscape-scale project to restore the surrounding land for nature. Both reserves are full of wildlife to enjoy, with Wicken Fen supporting more than 8,500 species including a spectacular array of plants, birds and dragonflies. In the winter the Great Fen as a whole is fast becoming a prime site for watching birds of prey. The Rothschild Way follows existing public paths including parts of the Ouse Valley Way and the Fen Rivers Way. The route is named after Charles Rothschild, who bought both of the connected reserves and went on to found the Society for the Promotion of Nature Reserves – the organisation that went on to become the Wildlife Trusts.
The Fen Edge Trail (Cambridgeshire)
The Cambridgeshire Geological Society is mapping a trail running along the Cambridgeshire fens, from the Lincolnshire border to the Suffolk border. The trail passes near Ramsey Heights, an abandoned clay pit which has developed into ponds rich in wildlife, and close to Wistow Wood, an old ash woodland. In Cambridge, walkers will be in the vicinity of Beechwoods, a wood of majestic beeches, and Cherry Hinton Chalk Pits, a quarry now reclaimed by nature and supporting rare plants and insects. Closer to Newmarket, the trail runs near Fordham Woods, a rare wet valley woodland habitat.
The following sections of the trail are currently available (courtesy of the Cambridgeshire Geological Society):