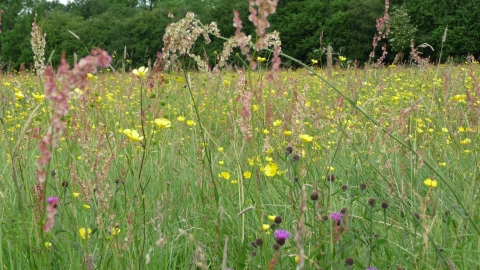 Traditional wildflower meadow and ancient woodland
Know before you go
Entry fee
No
Parking information
Park in Chalton and follow footpath on east side of sewage treatment works to footbridge crossing the River Flit
Grazing animals
Yes
Walking trails
Muddy areas in both meadows and woodland at times
When to visit
Opening times
Open at all times
Best time to visit
April to May, June to August
About the reserve
Teeming with wildlife, the grassland is home to an extraordinary range of flowers, starting with cowslips and adder's tongue fern in the spring, followed by ragged-robin, great burnet and the now scarce saw-wort in the summer. Even the grasses of the old pasture are special with quaking-grass and sweet vernal grass indicating its traditional nature. We graze the small meadow to maintain low fertility; the larger meadow is occasionally cut for hay, then grazed.
The woodland, known as Chalton Spinney, has towering oak and ash, with alder in wetter areas. In Spring, the woodland floor is carpeted with bluebells, along with sanicle, dog's mercury and the occasional primrose.   
Multi-stemmed hazel tells of past and ongoing coppicing, while on the meandering path through the wood, spring bluebells are followed by pungent ramsons.
Species
Environmental designation
Site of Special Scientific Interest (SSSI)