Our Activity Centres are areas where our Wildlife & Community Teams are based. Some of these are physical centres where we regularly hold events and some are more general regions in which we work. The team provide amazing wildlife experiences for families, schools, local communities, volunteers and many other groups, inspiring thousands of people to understand and connect with nature every year.
Find your local learning experience
Our Activity Centres provide wonderful natural settings with dedicated teams leading engaging ways for families to enjoy the outdoors. These include bug hunts, pond dipping, den building, insect days and night adventures looking for bats, glow worms and magnificent moths.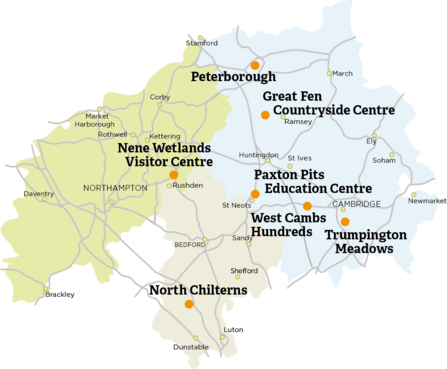 Covid-19 Safety Measures
We are delighted that our outdoor events, workshops and programmes, including family events and guided walks, are running again. Visit our events page for a full list of upcoming events and to book your place. Events will continue to be planned on the basis of making them Covid-safe. This may happen in a number of ways, including limiting group size, regular sanitisation and ensuring personal space. Our duty of care to our staff, volunteers, members and visitors remains our top priority.
Read more about our ongoing safety measures here and explore our full events list.