Our Activity Centres are areas where our Wildlife & Community Teams are based. Some of these are physical centres where we regularly hold events and some are more general regions in which we work. The team provide amazing wildlife experiences for families, schools, local communities, volunteers and many other groups, inspiring thousands of people to understand and connect with nature every year.
Find your local learning experience
Our Activity Centres provide wonderful natural settings with dedicated teams leading engaging ways for families to enjoy the outdoors. These include bug hunts, pond dipping, den building, insect days and night adventures looking for bats, glow worms and magnificent moths. 
24/3/20 - All our Activity Centres are currently closed in response to Covid-19. Find online events and resources on our Wild Learning page.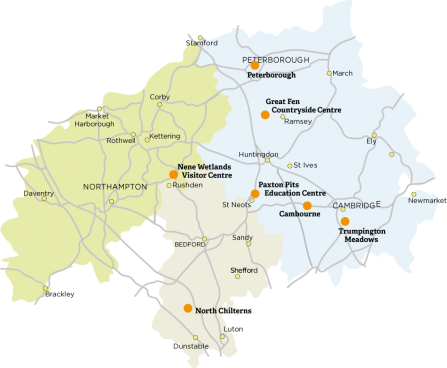 COVID-19 Update
In response to the pandemic we have sadly needed to cancel all of our events between March and July, as well as many we had planned for the rest of the year. We know how important nature is for everyone's health and wellbeing though, we have been working hard to adapt our popular engagement activities and are now able to offer a some small-group events at a few of our sites (pre-booking essential) as well as a growing list of on-line events.