Our Activity Centres are areas where our Wildlife & Community Teams are based. Some of these are physical centres where we regularly hold events and some are more general regions in which we work. The team provide amazing wildlife experiences for families, schools, local communities, volunteers and many other groups, inspiring thousands of people to understand and connect with nature every year.
Find your local learning experience
Our Activity Centres provide wonderful natural settings with dedicated teams leading engaging ways for families to enjoy the outdoors. These include bug hunts, pond dipping, den building, insect days and night adventures looking for bats, glow worms and magnificent moths.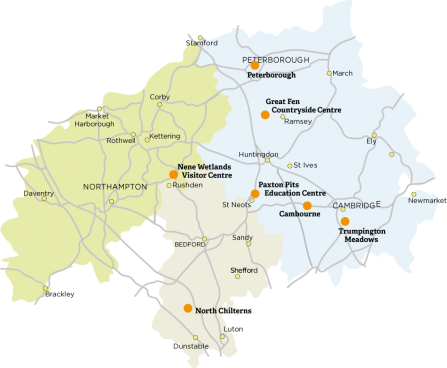 COVID-19 Update
Due to the change in Government guidelines and the new coronavirus lockdown in England, all face-to-face events from Monday 4 January 2021 have been cancelled until further notice. We will continue to monitor the guidelines and look forward to welcoming you back to our events as soon as it is safe to do so.
In the meantime, explore our growing programme of online and self-guided events, including talks, walks and workshops.