Join our new Wildlife Lottery today to support local wildlife and be in with a chance of winning £25,000!
How does it work?
The draw takes place every Friday and each entry costs just £1. You will be allocated a 6-digit lottery number which is yours for as long as you play. A Random Number Generator is used to pick a winning number sequence and a range of prizes is available for matching 3, 4, 5 or 6 digits.
Sign up through the Unity website using the link below, or  download the application form at the bottom of this page. You must be 16 years or older to play. Good luck!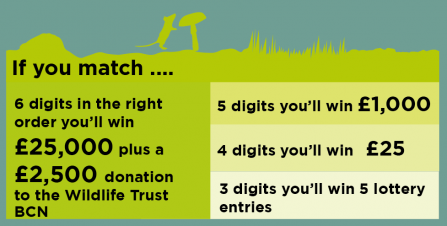 Where does my money go?
For every £1 you spend, at least 50p comes directly to us.
You can pay for as many weekly entries as you like!
£1/week - 1 chance to win - at least 50p towards vital local wildlife work
£2/week - 2 chances to win - at least £1 towards vital local wildlife work
£3/week - 3 chances to win - at least £1.50 towards vital local wildlife work
And you can pay monthly, quarterly, biannually or annually.
The lucky winners are selected at random each Saturday and all winners are notified - so there's no need for you to claim. The likelihood of winning a prize is 1 in 63.
Last year our lottery proceeds were £5,298, of which 50% was spent on our work, 18% on prizes and 32% on administration.