Support your local Wildlife Trust
Will you help us by donating to support nature near you?
50% decline of hedgehogs in our countryside
41% of insects threatened with extinction
80% of UK peatlands damaged
92% of seagrass beds lost around the UK
Our natural world is in trouble
There is no secret. Wildlife is disappearing at an alarming rate - some are calling it the next mass extinction - and the threat of climate catastrophe is a constant worry. We live in a time of emergency.
There is still hope - we can tackle both of these critical issues - but we have to act now. Time is running out.
Your donation will help us work towards our vision of 30% of land across our three counties protected for nature's recovery by 2030.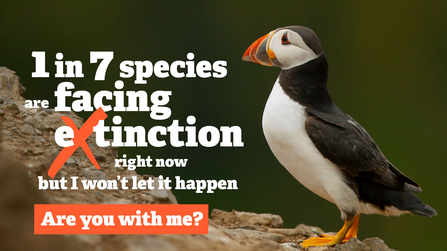 We can do this together
By joining our mission for nature's recovery, you will make a real difference to wildlife and our natural world. Every pound donated will help us achieve our vision for a wilder future.
Nature has given us so much, it's now our turn to give back.
Support our vision for a wilder future
Donate to support our work and protect tomorrow
Appeals
You can also donate directly to one of our appeals.
We are so grateful for all donations made to us and every penny will help us with our work and mission to stop the decline of local wildlife.