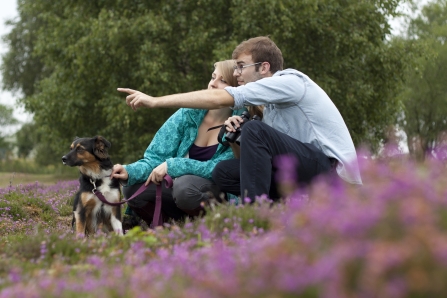 We want to help dogs, people and wildlife stay best friends on our nature reserves: we need your help to do it
We manage our nature reserves so they are safe havens for wildlife and for the people who come to enjoy nature. We are very aware that many of our members also enjoy walking their dogs on our reserves, and many dog walkers contribute a great deal to nature conservation. But the impact of dogs on wildlife, grazing animals and other visitors can sometimes be more significant than people are aware.
We determine the best policy for all our reserves based on seasonal and conservation factors. There are times when it's best for dogs to be on leads - such as when there are grazing animals or ground-nesting birds in a reserve. At other times, it's fine to keep your dog off a lead but the dog should always be in under close control. That means that you know where your dog is at all times, that you can see it and that it will come to your command. Before you visit a reserve, check our reserves pages for information on the dogs policy for that reserve, and for notices of sensitive times, such as lambing, when dogs must be on a lead at all times. (Unfortunately, we do lose sheep every year due to dog attacks). 
This video by the South Downs National Park authority is well worth a watch.
We're doing our best to encourage responsible dog walking on our reserves. At some of our reserves our 'walking wardens' monitor wildlife, speak with visitors and keep an eye out for any problems, such as fouling. Our Irthlingborough reserve has a special 'doggy dip' area where your pooch can cool off. We've also held dog training sessions at Blow's Downs in Bedfordshire - and hope to hold more in the future.
Meanwhile, here's how you can help to keep our nature reserves safe and enjoyable for all of us.
Play close attention to signs at the reserve entrance, which may change seasonally.
Keep your dog in sight and under close control at all times. Be certain it will come when called.
It is illegal to worry livestock, so we will always ask you to put your dog on a lead around sheep, and often around cattle.
Be mindful of the way your dog interacts with other visitors.
Clear up after your dog and dispose of the waste in bins.
If someone asks you to control your dog or put it on a lead, please do so.