Restoring a lost wilderness
The fens of Eastern England once comprised Britain's largest wilderness, stretching from Cambridge to Lincoln, until they were drained and turned into farmland. The wild fens held an abundance of wildlife that is hard to imagine today. The few records we have describe enormous flocks of birds and a wealth of invertebrate, animal and botanical life.
The Great Fen is a 50-year project to restore a huge wildlife-rich wetland area in the fens. One of the largest restoration projects of its type in Europe, the project area lies between Peterborough and Huntingdon and covers 3700 hectares, including the National Nature Reserves of Woodwalton Fen and Holme Fen.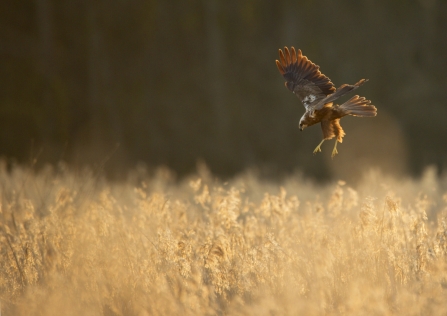 The Great Fen is the result of a partnership project by the Wildlife Trust with Natural England, the Environment Agency, Huntingdonshire District Council and the Middle Level Commissioners.
This Living Landscape will be achieved by obtaining land that links or is adjacent to the two existing National Nature Reserves, Holme Fen and Woodwalton Fen. Connecting these two vitally important nature reserves will provide a haven for wildlife and create a massive green space for people, providing new opportunities for recreation, education and business.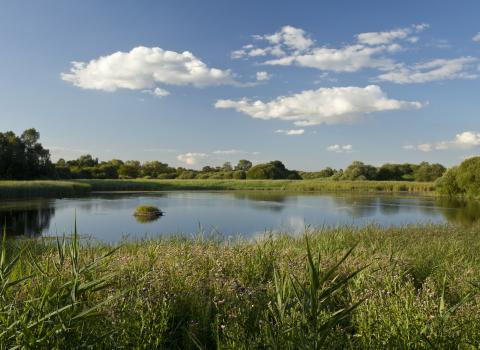 Woodwalton Fen
Follow grass paths through this beautiful National Nature Reserve and discover the Rothschild Bungalow - a thatched retreat built by the Hon. Charles Rothschild when he acquired the land and created the nature reserve in 1911. Woodwalton Fen is home to a wide variety of wildlife, including butterflies, dragonflies and birds such as bitterns and marsh harriers.
Common cranes disappeared from the Fen landscape 400 years ago, due to habitat change and hunting, but since 2008 they have been seen intermittently on the site.  For more information please visit the Natural England website. From the west and north banks of Woodwalton Fen it is possible to look out over Darlow's and Middle Farms, areas of the Great Fen that are being converted from arable fields into species-rich wet pastureland.   
Explore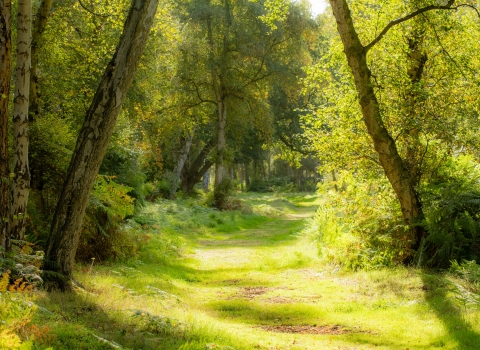 Holme Fen
Another National Nature Reserve, this large silver birch woodland surrounds two open meres and supports many types of wildlife including a huge variety of fungi. Of particular interest is the Holme Post, which shows how ground levels have fallen dramatically since the Fens were drained. For more information, please visit the Natural England website. From Holme Fen you can look across more former arable land that is now under restoration. The fields of Summer Standing are to the south and to the northeast lies Rymes Reedbed
Explore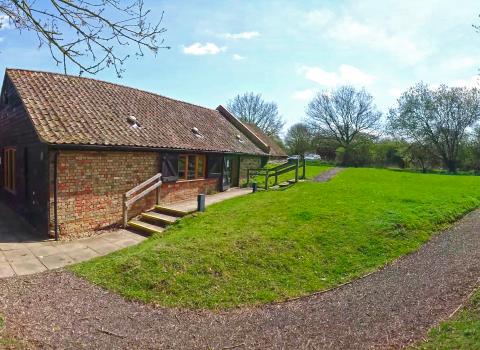 The Wildlife Trust Countryside Centre
Visit the Wildlife Trust Countryside Centre to participate in events and activities at the Great Fen. We provide opportunities to learn about wildlife for all ages.
Visit
Information Point at New Decoy Farm

In the heart of the Great Fen area, this is a great place to start your visit and get your bearings. The fields here are being restored with grazing cattle and newly-profiled ditches and scrapes. There are maps and information panels and you can take a short way-marked walk past ponds, wet meadows and trees to an unusual bird hide. More details are here.  
Rymes Reedbed

Major construction of drains, dykes and new reedbedsopen areas of water is under way in this area which is the site of Trundle Mere, an offshoot of Whittlesea Mere the largest lake in the south of England before it was drained in the 19th century. A tower hide has been built on the boundary of this area enabling you to look out over the restoration work and view the bird life that is already beginning to use the new habitats. Pictures and details here.
Kester's Docking

Kester's Docking lies east of Rymes Reedbed and was previously 12 fields farmed as part of Holme Lode farm. After the area was acquired by the Great Fen the fields were sown as species-poor grassland, in order to improve soil condition and structure. Physical and ecological studies indicated that Kester's Docking would be most suited to a mixture of reedbed, open water, and wet and dry grassland integrating with the adjacent Rymes Reedbed. This mixture of habitats would create an area of land that should encourage a range of wildlife including target species such as Bittern and Water Vole. Kesters Docking can be seen from the Trundle Mere Lookout hide at Rymes Reedbed.  
Engine Farm

Engine farm is right at the beginning of its restoration journey. Its position allows connectivity with other sites within the northern part of the Great Fen project area. It will be restored to include a mixture of wet / dry grassland and a wildflower meadow.