The Great Fen is one of the largest restoration projects of its type in Europe. Through this 50 year project, the landscape of the fens between Peterborough and Huntingdon is being transformed for the benefit both of wildlife and of people.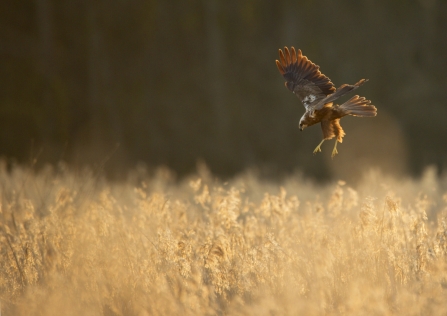 The fens of Eastern England once comprised Britain's largest wilderness, stretching hundreds of miles between Cambridge to Lincoln. They held an abundance of wildlife that is hard to imagine today. The few records we have describe enormous flocks of birds and a wealth of invertebrate, animal and botanical life.
In the 17th century the land started to be drained for farming and now more than 99% of this habitat with many rare species of plants and animals have been lost. Two of the last fragments, the National Nature Reserves (NNRs) of Woodwalton Fen and Holme Fen, are now too small and isolated to provide a safe haven for rare wildlife in the long term.
In 2001, we and our Great Fen Partners embarked on an ambitious 50-year project to connect these precious fragments and to create a vast, enriched fen landscape that is good for people and for wildlife. One of the largest restoration projects of its type in Europe, the project area lies between Peterborough and Huntingdon and covers 14 square miles (over 9,000 acres) in total.
Restoration of the Great Fen will also help mitigate climate change as natural habitats like woods, meadows and wetlands store greenhouse gases like carbon dioxide. We are also pioneering new wet farming techniques through our Water Works project. These techniques are aimed at restoring peatland. Loss of peat in the fens is one of the greatest causes of greenhouse gas emissions in the UK.
Find out more about the Great Fen
The Great Fen is the result of a partnership project by the Wildlife Trust BCN, Natural England, the Environment Agency, Huntingdonshire District Council and the Middle Level Commissioners and was first established through a grant from the National Lottery Heritage Fund.