Rockingham Forest is a collection of ancient woodlands that once formed William the Conqueror's favourite hunting forest. Today they are the favourite hunting ground of the red kite, successfully re-introduced here in the 1990s. The red kite is a symbol of nature in resurgence as local initiatives work to re-connect the woodlands and re-imagine the Forest as a place for people and wildlife to thrive.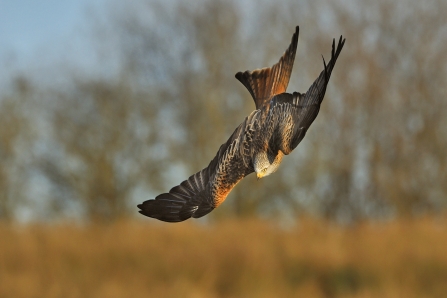 Situated in North East Northamptonshire between the rivers Nene and Welland, Rockingham Forest has long formed an important part of Northamptonshire's natural and cultural heritage supporting diverse flora and fauna, from carpets of bluebells, anemones and garlic-scented ramsons to rarities such as dormice and black hairstreak and purple emperor butterflies.
A large amount of woodland still remains but as separate woodlands adrift in arable landscapes. In this situation woodland wildlife becomes 'marooned', unable to expand its range or territory. This puts pressure on isolated populations, leaving them vulnerable to disease, climate change and other threats.
Working with the Forestry Commission, the Rockingham Forest Trust, landowners and local communities, creating a Living Landscape will enhance existing habitats and restore broadleaf woodland, traditional hazel coppice and wildlife-rich glades.
The Wildlife Trust aims to expand and create new habitat through linking woodlands and growing new hedgerows and increasing field margins. Two ancient woodland reserves, Short Wood and Southwick Wood, will be linked by encouraging the natural regeneration of trees on four hectares of land that lies between them.
Working with others, we will be able to safeguard Rockingham Forest and its habitats, now and for the future.
Nature Reserves