A beautiful wetland nature reserve.
Our Education Centre at Paxton Pits Nature Reserve, in the heart of the Ouse Valley, offers a great learning experience for visiting education and community groups as well as families - including a chance to get up close to local wildlife on the surrounding nature reserve throughout the year.
At Paxton Pits we aim to inspire families and visiting education and community groups about the wildlife of the Ouse Valley.
Families
We offer fun and exciting practical activities.  Our popular drop-in holiday events have included activities based around everything from earthworms to hedgehogs to bumblebees and more! During these special events families potter around in the outdoor area playing games, undertaking challenges, pond dipping and minbeasting hunting to discover more about local wildlife. They are sent home with their own creations that have included everything from hedgehog monitoring tunnels (to discover if they have a hedgehog in their garden) to chocolate puddings based around earthworms and soils.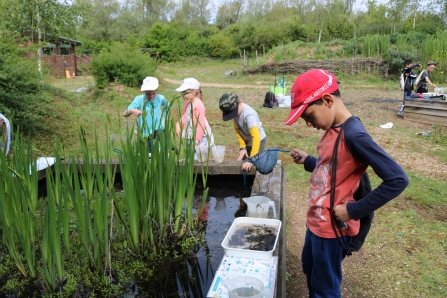 Programmes for School and Community Groups
We offer engaging, practical learning programmes that are enjoyed by many local schools and community groups each year. These experiences are designed to put children at the heart of learning on their exciting day or evening with us. Our experienced and enthusiastic staff will ensure you will have a memorable visit.
Creatures' Homes – Pre-School Programme

This half day practical programme introduces creatures' homes through a story with puppets. Children then head outdoors to explore the education centre grounds, pond dip at the raised ponds before 'building' mini ponds. Children then minibeast hunt in our specially created area before constructing a home suitable for a hedgehog.
Tales of the Ouse Valley (Reception/Year One)

This school visit is tailored for Reception/Year One and runs from March - October

Come and join us on an adventure to discover some of the creatures that live in or around the Ouse Valley. This is a fun filled educational day specifically geared for younger children. If your children like illustrated stories (sent to you to read in class in advance of your visit), puppets, pond dipping, bird watching, mini beast hunting and treasure trails, then this is the day for you!
Wild Journeys Habitats Through Time (Year Two - Year Six )

This school programme is directed at Year Two - Year Six and runs from April – September.

Pupils undertake an amazing wild journey through time, equipped with time travel wristbands, explorer kits and time dials to discover how Paxton Pits became so important for wildlife stopping off at key points in history to undertake exciting activities, including fossil hunting, pond dipping, birdwatching and sweep netting.
Wild Journeys of People & Wildlife (Year Two - Year Six)

This particular programme is aimed at Year Two - Year Six and runs from October – March

Children will explore why the Saxons journeyed to and settled at Paxton; why birds migrate to the reserve to spend the winter; how Saxons used the natural resources in a variety of ways; how farming the land to grow food provides a habitat for wildlife; how the way  people use the earth's resources changes habitats; and how wetland and farmland birds are adapted to the habitat in which they are found.

During their visit, children will unearth clues, make clay creations, bird watch from the journey headquarters, visit a Saxon camp, take part in the Saxon arrival, and find a feast for the birds.
Art & Design Programmes (A' Level & BTEC Pupils)

These programmes are designed for A' Level & BTEC Pupils

Artistic interpretation of the natural world is an intrinsic part of human expression which the Wildlife Trust aims to explore through an educational programme for Art and Design students. This programme is designed to inspire and enrich learning experience through direct engagement with Paxton Pits nature reserve.
Students will be guided around the reserve and have the opportunity to:

Get up close and personal with underwater creatures to look at adaptive form, movement and texture.
Sketch the 'Living Landscape' developing observational and interpretive skills.
Watch Wildlife from the secrecy of the hides to view the many wetland birds on the reserve and interpret the differing styles of flight, feeding and social interaction. 
Use the resources at the Education Centre to research successful artists within the genre of Wildlife Art to inspire and motivate.
Outdoor Learning Area
Your class or group will benefit from a purpose built education centre and specially designed grounds. Volunteers spent an amazing 360 days creating an outdoor learning area around the Centre which has now matured into a wonderful base for learning. The space, which was once a quarry vehicle depot, now boasts raised ponds for pond dipping, a minibeast hunting area, a willow woolly mammoth, a minibeast hotel made from redundant boats. Trees and wildflowers like viper's bugloss, teasel and mullein play host to a variety of pollinating insects and birds.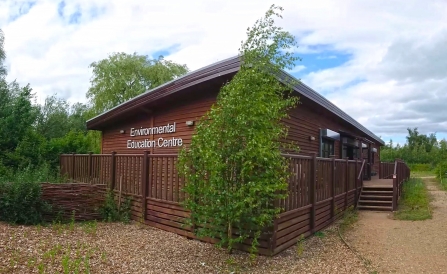 Contact Us
For further information and to book a visit, contact paxtonpits@wildlifebcn.org
Environmental Education Centre, Paxton Pits Nature Reserve, Little Paxton, Near St.Neots, PE19 6ET
Tel: 01480 473161
Events coming up at Paxton Pits Education Centre...