Every gift will be used to protect local wildlife and wild places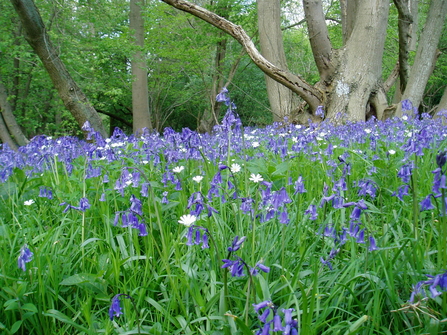 Giving a gift in memory
Traditionally we pay our respects with floral tributes and while cut flowers don't last very long, wildflowers can last for generations. 
A donation in memory of a loved one can help to protect bluebells in local woodlands; wildflowers and butterflies in our meadows; and lapwings and otters in wetlands across our area. By giving a gift in memory you are directly supporting the conservation of local nature reserves and wildlife, keeping places special for future generations.
The Wildlife Trust BCN Celebration Tree
A leaf on our Celebration Tree is a wonderful way to create a long-lasting memory of a special event or honour an important person in your life, while also supporting nature across our three counties.
From £150, an oak leaf engraved with wording of your choice is attached to our tree for a fixed number of years.
Dedications
We also offer a number of ways to make a dedication in memory of a loved one:
Book of Remembrance: £250

For those who wish to record a personal message in memory of a loved one, we can offer a special dedication in our beautiful Book of Remembrance which is currently displayed at the office in Cambourne. Families are invited to view the dedication in person at a location of their choosing within the three Counties.
A 'memory plaque': £150

There are a number of dedicated spaces across our nature reserves, where 'in memoriam' or dedication donations can be publicly recognised; this may be on a hide, on a display board or on a 'memory post'. The single brass plaque can be engraved with up to 20 words, and will be positioned where it is easily accessible for viewing.
To speak to someone about arranging a dedication, or giving a gift in memory, please contact us on 01954 713500
A Gift in Memory will help to achieve our vision of an enriched natural environment; providing homes for local wildlife and places where people can reflect, and enjoy our special wild places.
To send a gift by post, please send your cheque, made payable to the Wildlife Trust BCN, and include your name and address as well as details of the person you are remembering to: The Wildlife Trust BCN, Freepost RITKE-REZU-YRLZ, The Manor House, Broad Street, Great Cambourne, Cambridge CB23 6BR. You do not need to use a stamp.
To make a gift by telephone, using a credit or debit card, please call 01954 713543.
Some part/all of your donations could be used to make a Contributing Third Party (CTP) payment to a landfill operator to secure a grant through the Landfill Communities Fund.