The Great Ouse is 143 miles long
The Great Ouse slides languidly through several eastern counties before merging with The Wash via a bird spectacular at the Ouse Washes. In places intensively managed and in others quite hidden and mysterious, the Ouse is unique, beguiling and well worth exploring.
The River Great Ouse runs a peaceful course between Turvey on the Bedfordshire/Buckinghamshire border, via Bedford, St Neots, Huntingdon and St Ives and on to the internationally protected Ouse Washes. Its meadows include rare species such as snake's-head fritillary, marsh dandelion and marsh and green-winged orchids. The river itself is one of a number of breeding sites for scarce chaser dragonfly and the Washes are widely known for breeding waders and wintering wildfowl, including wigeon, garganey, black-tailed godwit, redshank and lapwing.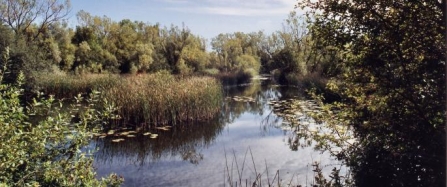 The Living Landscape scheme will expand and link existing nature reserves by working in partnerships with local authorities, local communities and others. We're also working directly with the owners of Local Wildlife Sites, helping them to manage their land with nature firmly in mind.
Initiatives already under way, such as encouraging the creation of wet grassland for breeding and wintering waterbirds, plus co-ordinating a seed harvesting initiative, taking seed from established old meadows and using to restore flower-rich meadows, mean that the Great Ouse Valley becomes a wildlife stronghold throughout its length.
Nature Reserves