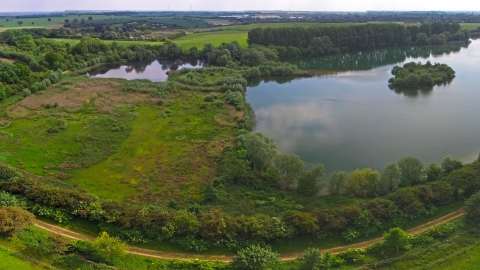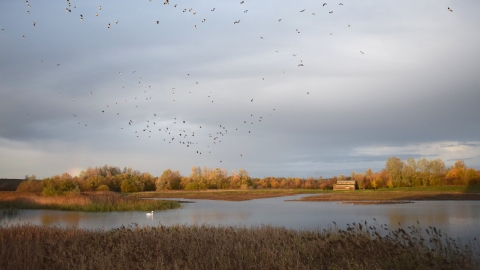 Godmanchester Nature Reserve
A rich mixture of flooded gravel pits, grassland, reedbed and willows
Location
Know before you go
Grazing animals
Cattle grazed grasslands
Walking trails
Surfaced and un-surfaced paths, part of the Ouse Valley Way.
Access
Over two miles of wide rides, minor paths, slight gradients, suitable for wheelchairs and pushchairs. Surfaced and unsurfaced paths; The Ouse Valley Way long distance path passes through the reserve.
When to visit
Opening times
Open at all times
Best time to visit
Summer
About the reserve
This beautiful nature reserve south of the River Great Ouse consists of four lakes which are former gravel pits. Interspersed with the lakes are areas of grassland and ancient hedgerows which provide habitats for many birds. Ducks and geese swim on the open water, kingfisher hunt in the streams and songbirds search the hedgerows for food. In winter numbers of grazing wildfowl increase as the resident population is joined by birds migrating south to avoid harsh Arctic winters. 
The reserve is also rich with history. Roman Lake is the site of a Roman well unearthed during quarrying in the 1980s. Mouldings Meadow is named after former brick mouldings; now it's a great place to spot snipe. Teddy's Lake was Teddy's Farm before it was quarried. Numerous gulls and ducks breed on sheltered Island Lake. 
Summer sees an explosion of colour as of the lakes and butterflies soak up the sun. At the base of the hedges and out in the grassland wildflowers bloom, attracting more nectar-feeding invertebrates. Along the old railway line, wildflowers like knapweed bloom. 
Reserve management
We routinely cut back willow around the lakes to maintain the osier coppice and stop encroachment into the lakes. Grazing animals are used to promote wildflowers in the grassland areas and we pollard mature trees to increase their longevity. We restore hedges using the traditional practice of hedgelaying, which invigorates the shrubs and provides a dense nesting area for songbirds. 
Additional information
We have regular work parties at this nature reserve, see the Cambridgeshire work party page for more information. 
Please note that there is no fishing in the lakes at Godmanchester Nature Reserve. There are fisheries lakes adjacent to the reserve.  
Nearby non-Trust reserve: Holt Island Nature Reserve (a new nature reserve managed by the Friends of Holt Island)
Scroll down to see the reserve boundary. Please note the boundary map is for indication purposes only and does not show the Wildlife Trusts definitive land boundary. 
FOR ANY MEDIA ENQUIRIES PLEASE CONTACT OUR COMMUNICATIONS TEAM:   communicationsteam@wildlifebcn.org or 01954 713500 and ask for comms team.
Habitat
Environmental designation
County Wildlife Site
Do you enjoy visiting this reserve?
Help us maintain it, and other wild spaces, by making a small donation today