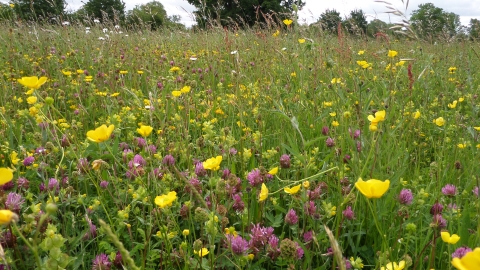 Five pretty meadows; very colourful from spring to summer.

Know before you go
Entry fee
No
Parking information
Park in market square in Houghton and walk 0.5 miles to reserve along Thicket Road
Grazing animals
Yes
Access
Not wheelchair or pushchair friendly
When to visit
Opening times
Open at all times
Best time to visit
spring
About the reserve
Houghton Meadows is made up of 5 fields, some are ancient hay meadows and some are pasture. The meadows are covered from spring to summer in a sea of flowers, from the yellow cowslips to the pink spears of orchids and purple of knapweed. Once the hay is cut in July the ridges and furrows left behind when the oxen ploughed fields of the middle ages are revealed.
Surrounding the meadows are ancient hedgerows, currently undergoing rejuvenation using traditional methods. Almost hidden at the back of the reserve is a tiny brook, which joins the ox-bow of the Ouse towards Hemingford Grey. It is a refuge for an array of aquatic plants and domain of the distinctive hairy dragonfly. On its bank there are a series of venerable old gnarled and twisted willows which are home to green woodpecker and numerous insects.  
Additional information
Further information on the History of Houghton Meadows is available by kind permission of Huntingdonshire Fauna and Flora Society. 
Scroll down to see the reserve boundary. Please note the boundary map is for indication purposes only and does not show the Wildlife Trusts definitive land boundary. 
FOR ANY MEDIA ENQUIRIES PLEASE CONTACT OUR COMMUNICATIONS TEAM:   communicationsteam@wildlifebcn.org or 01954 713500 and ask for comms team.
Habitat
Environmental designation
Site of Special Scientific Interest (SSSI)