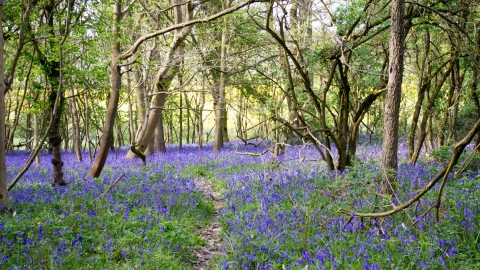 Short Wood and Southwick Wood
A beautiful ancient woodland which is carpeted with bluebells in the spring
Know before you go
Entry fee
No
Grazing animals
No
Walking trails
Rides are level but very wet and muddy in places
Access
Not suitable for wheelchairs or pushchairs
When to visit
Opening times
Open at all times
Best time to visit
April to September
About the reserve
Short Wood is a fragment of the Rockingham Forest, a medieval hunting forest. It is a designated Site of Special Scientific Interest which includes areas of managed hazel coppice, many large oak, ash and field maple trees and small areas of dense blackthorn scrub. Occasionally, nightingales can be heard here. 
Much of the ancient woodland at Southwick Wood was replanted to replace elm trees felled in the late 1960s due to Dutch Elm disease. It now contains a mix of oak, ash, field maple, hazel and cherry. The woodland provides cover for a range of visiting bird species including willow warbler, woodcock and tawny owl. Beautiful views out over the countryside and nearby villages can be spotted through the trees. 
In both woods, spring brings a carpet of bluebells and dog's mercury over much of the ground. Primrose, wood speedwell, greater stitchwort and wood melick are also abundant. Many butterflies inhabit these woods – look out for speckled wood, gatekeeper and comma in the sundrenched glades and rides. 
In addition to coppicing, we selectively thin trees in the woodlands to create the best conditions for wildlife. The rides and glades are mowed and scalloped to encourage wildflowers. 
Between the two woods is an area now called 'Dodhaws Wood' named after the ancient woodland that once existed here. This area was arable land when purchased by the Wildlife Trust in 2007. Now a grassy expanse studded with young trees brought here by the wind and birds, minimal intervention will ensure it becomes a rich wildlife haven as it slowly develops into a woodland.  
Additional information
Scroll down to see the reserve boundary. Please note the boundary map is for indication purposes only and does not show the Wildlife Trusts definitive land boundary. 
FOR ANY MEDIA ENQUIRIES PLEASE CONTACT OUR COMMUNICATIONS TEAM:   communicationsteam@wildlifebcn.org or 01954 713500 and ask for comms team.
Habitat
Environmental designation
Site of Special Scientific Interest (SSSI)