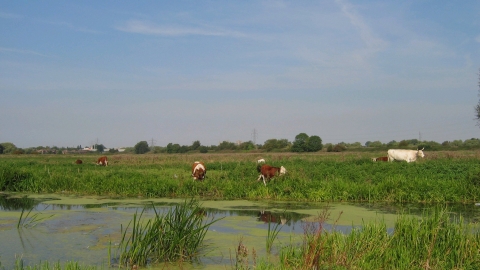 A wetland reserve with its own distinctive habitat.

Know before you go
Entry fee
No
Grazing animals
Yes
Walking trails
Some paths not well used and quite faint. Site can be muddy and wet on the wash but dry on the embankment. Do not stray onto the railway line
Access
not suitable for wheelchairs or pushchairs
When to visit
Opening times
Open at all times
Best time to visit
All year round
About the reserve
Separated from the rest of the Nene Washes by a railway line to the north and bounded by the river to the south, this reserve is a distinct part of the Nene Washes habitat. The grassland floods each winter, providing a shallow water winter refuge for waterfowl and nesting space for waders. In the summer, it is grazed by cattle to keep the vegetation low and create a sward of varied height that is favoured by nesting waders and insects. 
The raised embankment is very free draining and with its patchwork of scrub and dry acidic grassland, dominated in places by lichen, is a rare habitat in Cambridgeshire. The network of water-filled shallow ditches host rare beetles. Along the Back River (a tributary of the River Nene) the ditches contain nationally scarce plants such as fringed waterlily, grass-wrack pondweed, and spined- loach, a rare European fish. 
The site is very good for birds, so visitors may sit with binoculars and be lucky enough to see snipe, redshank and sandpiper, or catch a glimpse of a peregrine as it stirs alarmed waders into flight. 
We mow and graze the meadows to encourage wildflowers, and control invasive thistles. We clear the ditches on a rotational basis and have recently modified some of them to create better wildfowl habitat by digging shallow pools and installing water control structures. To maintain the grassland area on the railway embankment, we occasionally clear the scrub there. 
Additional information
Caution: do not stray onto the train line.
Scroll down to see the reserve boundary. Please note the boundary map is for indication purposes only and does not show the Wildlife Trusts definitive land boundary. 
FOR ANY MEDIA ENQUIRIES PLEASE CONTACT OUR COMMUNICATIONS TEAM:   communicationsteam@wildlifebcn.org or 01954 713500 and ask for comms team.