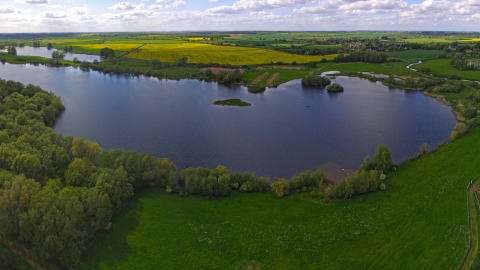 An enchanting wetland site with a good variety of birds, butterflies and a heronry

Location
When to visit
Opening times
Open at all times
Best time to visit
Anytime
About the reserve
Titchmarsh is part of the Thrapston Gravel Pits complex, which lies within the Upper Nene Valley gravel pits Site of Special Scientific Interest. The biggest lake is Aldwincle Lake, which provides a large area for overwintering birds, as well as isolated islands to encourage breeding. On one island we cut and burn the vegetation to improve the breeding habitat for terns and for wading birds such as oystercatcher. The smaller lake is the old duck decoy, now called Heronry Lake. It is enclosed by marginal vegetation and home to large populations of grey herons, which breed noisily beginning in February. 
Winter is the best time to see large numbers of wildfowl; in particular, goosander, wigeon and gadwall reach nationally important numbers. The grasslands provide breeding sites for ground nesters, while reed and sedge warblers chatter in the riverside vegetation. Late spring sees hobbies hunting insects overhead. 
The Nene Way footpath is a good vantage point to see butterflies. Along the riverbanks, nettle beds are used as perches for huge numbers of banded demoiselles, while the floating vegetation in the river provides resting sites for the red-eyed damselfly. The larger dragonflies patrol sheltered sections of Harper's Brook. 
In midsummer, we cut the meadows for hay; they are then grazed by sheep to help prevent coarse grasses and scrub species taking over. The fringing willow and scrub are also cut on a rotational basis. We leave patches of scrub at the southern end of the site as they are fantastic for small birds and nightingales. 
Additional information
Scroll down to see the reserve boundary. Please note the boundary map is for indication purposes only and does not show the Wildlife Trusts definitive land boundary. 
FOR ANY MEDIA ENQUIRIES PLEASE CONTACT OUR COMMUNICATIONS TEAM:   communicationsteam@wildlifebcn.org or 01954 713500 and ask for comms team.
Habitat
Environmental designation
Special Protection Areas (SPA)