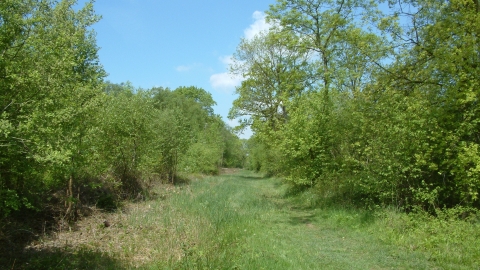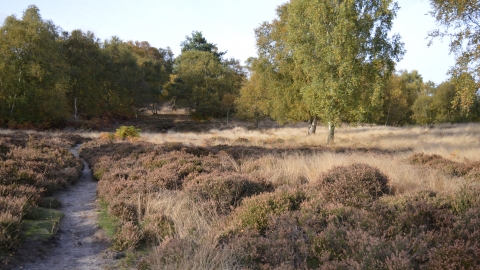 King's Wood and Rammamere Heath
A beautiful woodland and heath with displays of bluebells in spring and heather in summer
Location
Know before you go
Entry fee
No
Grazing animals
Yes
Walking trails
Can be muddy and boggy in winter
When to visit
Opening times
Open at all times
Best time to visit
April to May, June to August
About the reserve
This magnificent wood is part of the largest area of deciduous woodland in Bedfordshire and its history can be traced back before the 15th century. King's Wood is in multiple ownership and some of it is privately owned without public access. The nature reserve is within the Kings Wood and Rushmere National Nature Reserve managed jointly by the Wildlife Trust, The Greensand Trust, Tarmac and Central Bedfordshire Council. 
Straddling both the acidic sandy soils of the Greensand Ridge and the chalkier influence of the boulder clay, an intriguing variety of trees can be found in the wood, from multi-stemmed small-leaved lime to the sinewy trunks of hornbeam (a wood so strong it was once used to make gear wheels) to mighty oaks and silver birch trees.
There are seasonal ponds scattered throughout the wood. The drumming of the woodpecker heralds spring, when bluebells, primroses and lily-of- the-valley carpet the woodland floor. White admiral and silver-washed fritillary butterflies feed on bramble flowers, while nuthatches and treecreepers feed on insects. We cut the rides in the woodland to maintain access, and coppice the ride edges and other areas in the wood. 
The adjoining large Rammamere Heath provides a contrast to shaded beauty of the woodland. (We collaborate with the Greensand Trust and Tarmac over management of the heath.) Tree pipits are seen on the open heath and in summer adders bask on the sandy soil. The purple flowers of heather herald the end of summer, when autumn hues start to take the place of verdant growth both in the wood and on the heath with bracken stems dying back and trees losing their leaves. We graze the heathland, and clear bracken to allow the heather to thrive. 
Additional information
Scroll down to see the reserve boundary. Please note the boundary map is for indication purposes only and does not show the Wildlife Trusts definitive land boundary. 
FOR ANY MEDIA ENQUIRIES PLEASE CONTACT OUR COMMUNICATIONS TEAM:   communicationsteam@wildlifebcn.org or 01954 713500 and ask for comms team.
Habitat
Environmental designation
Site of Special Scientific Interest (SSSI)