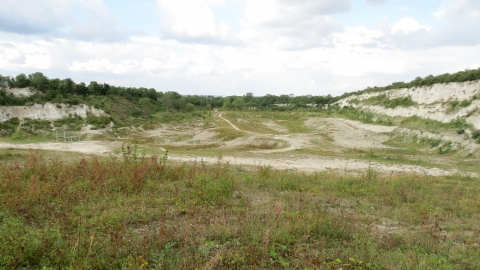 Former chalk quarries that now provide a variety of habitats for wildlife.
Know before you go
Entry fee
No
Parking information
Park in layby opposite the Public House on Fulbourn Road.
Grazing animals
No
Walking trails
Do not climb the cliffs. Possible falling rocks; keep away from the base of cliffs
Access
Steep slopes and steps. East Pit has a level and surfaced path around part of the site.
When to visit
Opening times
Open at all times
Best time to visit
Spring - Summer
About the reserve
These two chalk quarries once provided hard chalk to build Cambridge University colleges and lime for cement. Today they support a variety of habitats that harbour some rare plants and insects.
Quarrying finished in Lime Kiln Close approximately 200 years ago.  Nature has reclaimed the site and woodland has developed; large ash trees now tower over field maples below. The cherry trees in Lime Kiln Close are descendants of trees that gave Cherry Hinton its name.
East Pit is the largest of the quarries and was worked up until the early 1980s. Standing within the pit, you are surrounded by steep cliffs of chalk that glow in the late afternoon sun. Reprofiling the base of the pit in 2009 broke up much of the solid chalk surface, which enabled wildflowers and grasses to spread and colonise the exposed chalk. Wildflowers such as milkwort, harebell and kidney vetch are thriving. The rare moon carrot only grows here and at two other locations in the country (Beachy Head, East Sussex and Knocking Hoe, Bedfordshire). Annual monitoring in East Pit shows that the number of moon carrot plants here is increasing.
The scrub habitat in these pits provides nesting and feeding sites for more than 60 species of bird.
Additional information
Falling rocks: do not climb the cliffs and keep away from the base of cliffs as there is a possibility of rocks falling.
This nature reserve is part of the Cambridgeshire Chalk Living Landscape.  
In 2009 an archaeological excavation was carried out at East Pit.  The Cambridgeshire Geological Society have detailed information about East Pit, including a downloadable PDF.
Scroll down to see the reserve boundary. Please note the boundary map is for indication purposes only and does not show the Wildlife Trusts definitive land boundary. 
FOR ANY MEDIA ENQUIRIES PLEASE CONTACT OUR COMMUNICATIONS TEAM:   communicationsteam@wildlifebcn.org or 01954 713500 and ask for comms team.
Support our work
Help us maintain our reserves, and other local wild spaces, by making a small donation today.
Environmental designation
Local Nature Reserve (LNR)
Site of Special Scientific Interest (SSSI)