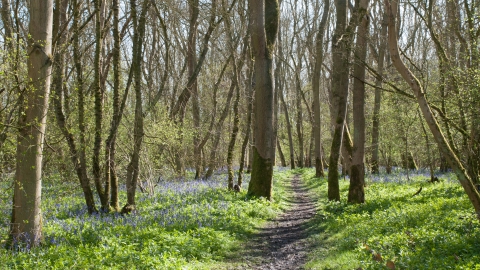 An old ash woodland with a marvellous habitat for mosses, lichens, fungi and insects
Know before you go
Entry fee
No
Access
Good paths, two steps at entrance and a narrow bridge in north end
When to visit
Opening times
Open at all times except during management work. Please see details below about temporary closure.
Best time to visit
Spring
About the reserve
Advanced Notice of Closure: September to December 2019
The Wildlife Trust will be completing woodland management works - agreed with the Forestry Commission and Natural England – this autumn / winter.
The work aims to maintain open conditions on the southern edge of the wood, benefiting plants and animals that require warm, sunny, sheltered conditions of young woodland such as butterflies, early purple orchids and nesting birds.
In addition, there will be thinning of trees in the centre of the wood, around the pond glade and beside some paths to help diversify the structure of the woodland.  This work will also mitigate some effects of ash dieback disease, which is already affecting many ash trees and help aid regeneration of new trees.
The woodland work will be completed during September to December 2019.
NB: For safety reasons the wood will be closed to all visitors during the period of active works.
About Wistow Wood
The wood contains evidence of a long history of traditional management. Numerous old ash trees with several stems indicate the past practice of coppicing, where trees were cut at ground level to take a crop of wood and stumps were left to re-grow. Most of the mature trees were removed before the 1920s, but since then the wood has been left to regenerate. The old rotten bases of the trees provide a marvellous habitat for mosses and lichens, fungi and insects. During spring the woodland floor abounds with dog's mercury, bluebells, wood anemones and primroses. The woodland rides have summer flora including meadowsweet and ragged-robin as well as a variety of grasses and sedges.
Environmental designation
Ancient Woodland
Site of Special Scientific Interest (SSSI)