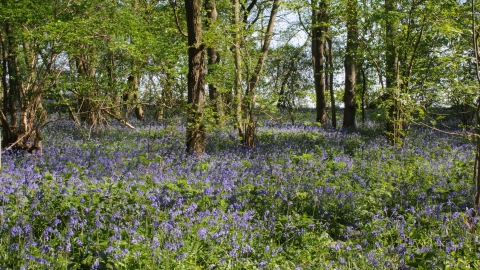 Please note the wood is now closed safety reasons for 2-3 weeks while machinery is on site for conservation work. See below for details.
A magical ancient woodland, perfect for a visit any time of year
Location
Know before you go
Entry fee
No
Parking information
Parking available at entrance
Grazing animals
No
Walking trails
There are numerous pathways throughout the wood, including the 3-km Rippengal's Walk, named for Robert Rippengal, an archaeologist by training. Robert was the founder and director of a Cambridge-based company selling wood-fuelled renewable heating systems. He enjoyed walking in the woods and was inspired by the Trust's Vision of expanding and joining its woodlands. After he died tragically while walking in the mountains, his friends and family felt that supporting the Trust's woodland work was a fitting memorial.
Access
Wide level main rides. Some minor paths are rough. All can be very wet and muddy in winter and spring, especially during bluebell season.
When to visit
Opening times
Open at all times
Best time to visit
spring and autumn
About the reserve
November work
Due to the use of large machinery the wood is now closed for 2 to 3 weeks for safety reasons. Please take note of any signs you see. We apologise for any inconvenience. We will update this page when the wood re-opens.
This work has been agreed with the Forestry Commission and Natural England and will focus on the woodland rides (long open areas in the wood). Felling trees and clearing brash will open the rides to more light, boosting the ecological diversity of woodland flora and fauna, such as wildflowers, pollinating insects, and woodland birds. 
Earlier in the year we appealed for donations with our Tough Love appeal, which raised funds for large scale conservation projects like this. Thank you to everyone who has supported our ongoing work to improve habitats for wildlife.
About the reserve
This site has been woodland for at least a thousand years, and the character and diversity of wonderful wildlife here reflects it. 
For centuries, the wood has been important to the local community as a valuable source of building materials and firewood. We continue to carry out traditional coppicing, supplying thatching materials, stakes for hedgelaying and even beanpoles in Gamlingay to this day. The wood is primarily oak, ash and field maple, with an understorey of hazel and hawthorn.
In parts of the wood, conifers were planted after the Second World War; we are gradually removing these. Due to the different soil types throughout the wood, the flora here is very diverse. On sandier soils there are bracken, primroses and foxgloves, whereas on the clay soils, bluebells, oxlips and wood anemones thrive.
Myriad insects live in the wood, including speckled wood and purple hairstreak butterflies, longhorn beetles and several species of dragonfly. Along the grassy rides and paths, clouds of butterflies rise up from the flowers, then, as dusk gathers, bats hawk along the rides to take advantage of the abundance of moths. Birds are active year-round, whether trilling warblers, tapping woodpeckers or hooting owls. 
Nearby Sugley Wood is former arable land purchased by the Trust in 2002. Slowly reverting to woodland, it is already home to many mammals, while farmland birds such as yellowhammer and skylark fly overhead. In the evening, barn owls hunt silently. 
We mow the rides and paths and coppice along the edges to allow more light for flowers and butterflies. Sections of the wood are fenced to prevent deer damage. There is a volunteer work party at this reserve. See the work party page for more information. 
Gamlingay Wood is part of the West Cambridgeshire Hundreds Living Landscape.
Scroll down to see the reserve boundary. Please note the boundary map is for indication purposes only and does not show the Wildlife Trusts definitive land boundary.
Habitat
Environmental designation
Ancient Woodland
Site of Special Scientific Interest (SSSI)
Please note the reserve boundary map is for indication purposes only and does not show the Wildlife Trusts definitive land boundary.