DITCHFORD LAKES AND MEADOWS CAR PARK - the car park, on Ditchford Road, will be closed with effect from the start of October 2021. Please see 'Additional information' below for further details.
Central to the Nene Valley is the Nene Wetlands nature reserve, a unique one square mile of wild and man-made habitats, managed for wildlife and people.
Location
Know before you go
Parking information
Please note there is a 5 hour parking limit at Rushden Lakes
Grazing animals
Highland cattle, sheep
Walking trails
Many wide, smooth trails for walking.
Access
Yes
Wheelchair and pushchair friendly. Mobility scooter available for hire at the Visitor Centre.
When to visit
Opening times
Visitor Centre 10am - 5pm
Best time to visit
10am - 5pm
About the reserve
The Nene Wetlands is part of the Upper Nene Valley Gravel Pits Site of Special Scientific Interest and Special Protection Area. Four Wildlife Trust nature reserves - Irthlingborough Lakes and Meadows, Ditchford Lakes and Meadows, Higham Ferrers Pits and Wilson's Pits are now linked up with Skew Bridge Lake, Delta Pit and Higham Lake - flooded gravel pits, wet meadow, wet woodland and reedbed at the heart of the Wildlife Trust's Nene Valley Living Landscape.
This extensive series of shallow and deep open waters are surrounded with a wide range of marginal features, such as sparsely vegetated islands, gravel bars and shorelines, and habitats including reed swamp, marsh, wet ditches, rush pasture, rough grassland and scattered scrub. This range of habitat and the varied topography of the lagoons provide valuable nesting, resting and feeding conditions to sustain nationally important numbers and assemblages of breeding and wintering birds.
Twenty thousand waterbirds use the wetlands every year, for breeding, for their winter quarters or as vital stopping points on their long migration routes, from as far away as Arctic Russia and southern Africa.
Maps of the reserve are also available to buy from the Nene Wetlands' Visitor Centre.
Activities at the Nene Wetlands
Visitor centre
Our Visitor Centre - a low-lying wooden, grass-roofed building on the edge of Skew Bridge Lake - is hugely symbolic for the Wildlife Trust BCN. A first visitor centre for the Trust's three counties and a wonderful opportunity to engage with an entirely new audience coming to experience the retail park at Rushden Lakes. Visitors will experience an adventure at a place where wildlife, industrial history and modern retail culture come face-to-face.
The Trust's visitor centre officially opened in July 2017, and is open 10am-4.30pm every day except Christmas Day.
Sculpture trail
Outdoor play specialists Flights of Fantasy have created 14 beautiful wildlife sculptures in a trail along the edge of Skew Bridge Lake. Designer Russell Bowlby's creations also include interactive installations in a Wildlife Discovery Area - an abandoned barge and an otter holt. Carefully positioned trail cameras around the lake deliver footage to screens in the visitor centre (e.g. images from the heronry on Delta Lake - not publicly accessible).
Wild paddling
We collaborate with Northamptonshire company Canoe2 to offer a unique way to experience and appreciate nature. With the boathouse of Canoe2 just next door, access to the lakes - with portage on to the river Nene - couldn't be easier. 
Thank you for your support
Donations are our single biggest source of income, help us stop nature's decline in your area and maintain our reserves by making a small donation today. 
Additional information
Wilson's Pits: to protect the wildlife communities, this path will remain closed for the foreseeable future.
Wildlife restoration at the Nene Wetlands Nature Reserve has been supported with funding from the Heritage Lottery Fund. 
Ditchford Lakes & Meadows car park: we have taken the hard decision to close the car park, on Ditchford Road, with effect from the start of October 2021. It has suffered from repeated fly-tipping and littering over recent years and this has meant large amounts of time and money have been spent on the resulting clean ups, which is not sustainable. We understand this will be disappointing to the small number of legitimate car park users. Free car parking (up to 5 hours) is available at Rushden Lakes shopping complex, from where it is a 10 minute walk into Ditchford Lakes & Meadows nature reserve.
Scroll down to see the reserve boundary. Please note the boundary map is for indication purposes only and does not show the Wildlife Trusts definitive land boundary. 
FOR ANY MEDIA ENQUIRIES PLEASE CONTACT OUR COMMUNICATIONS TEAM:   communicationsteam@wildlifebcn.org or 01954 713500 and ask for comms team.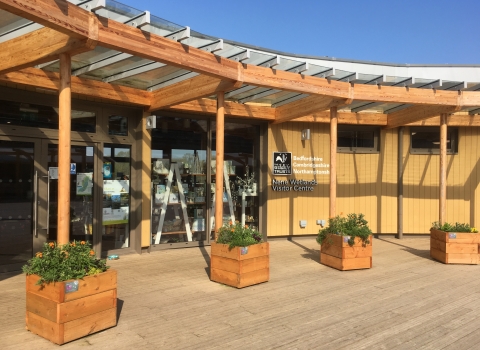 Nene Wetlands Visitor Centre
The Nene Wetlands Visitor Centre hosts regular events and activities. We have a wonderful shop on the Rushden Lakes boardwalk, plus a Discovery Play Area, sculpture trail and education area. Welcoming staff and volunteers will explain the work of the Trust at the Nene Wetlands and answer any questions. Why not pay us a visit?
Visit
Wildlife restoration at the Nene Wetlands Nature Reserve has been supported with funding from the Heritage Lottery Fund.