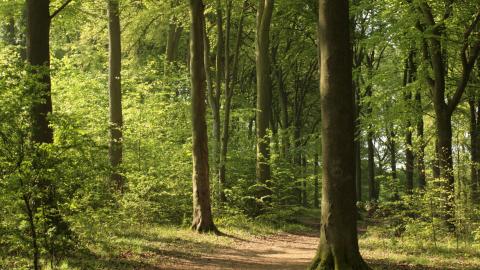 A small yet impressive wood of majestic beeches
Know before you go
Entry fee
No
Grazing animals
No
Walking trails
Wood can be dangerous in high winds because the beech trees may shed branches
Access
Park in layby on Wort's Causeway, opposite the wood
When to visit
Opening times
Open at all times
Best time to visit
Anytime
About the reserve
Beechwoods was originally planted in the 1840s, and Medieval plough terraces are still visible beneath the trees. The original beech trees are all mature, and beech-bark fungi combined with autumn gales has caused many of them to fall in recent years. Saplings have sprung up in the gaps, and the wood is now developing a more varied structure. West of the old wood, local people planted a new area of broadleaved trees in 1992. These trees will mature to provide a range of habitats to complement the old wood.
Beneath the beech trees, delicate white helleborine orchids thrive on the dry chalky soil, pushing up their flowering spikes in the spring before the beech leaves cast their deep, cool shade. These orchids are usually found under beech, and this nature reserve is one of their most northerly outposts. In years with a good beech-mast crop, large flocks of bramblings gather to exploit the rich food source. 
Additional information
FOR ANY MEDIA ENQUIRIES PLEASE CONTACT OUR COMMUNICATIONS TEAM:   communicationsteam@wildlifebcn.org or 01954 713500 and ask for comms team.
Habitat
Environmental designation
Local Nature Reserve (LNR)