The Huntingdonshire Local Group is made up of supporters of the Wildlife Trust for Bedfordshire, Cambridgeshire and Northamptonshire. It is local, run by local people, for local wildlife and to further the aims of the Wildlife Trust in the area.
Everyone is welcome to attend meetings and events organised by the group. It's not necessary to be a member of the Wildlife Trust to join in with the Huntingdonshire Local Group activities, however, if you do join your annual subscription directly benefits local wildlife.
See our Events Summary for 2019
There are a number of ways to get involved:
Join the committee – regular committee meetings are held to discuss and organise the programme of events and activities.
Come along to winter meetings – learn about wildlife through illustrated talks and meet local people. Held at Brampton Memorial Centre at 7.30pm on Second Wednesday of September to March inclusive.
Come along to summer events – visit our local reserves, identify plants, learn about habitat conservation or just join in on one of the social events.
Join a work party – there are several local reserves where there is always plenty of practical work to do.
You can volunteer to do various non-committee jobs, such as putting up posters, putting out and taking in chairs for meetings, back marking walks, helping at Beer Festivals.
You can donate money or persuade your friends to take our coin collecting boxes.
For further information please contact Martin Baker, Chair of the Huntingdonshire Local Group on 01487 831994, or send him an email. 
For the most recent information follow us on Facebook: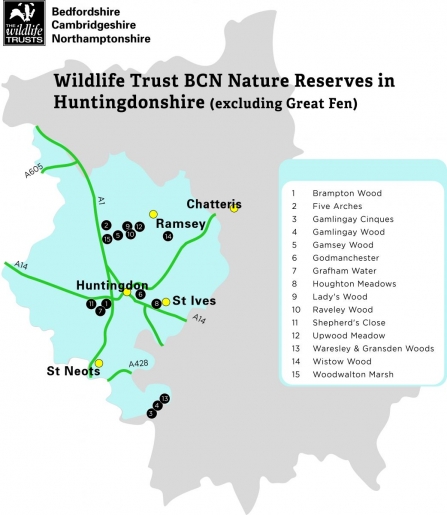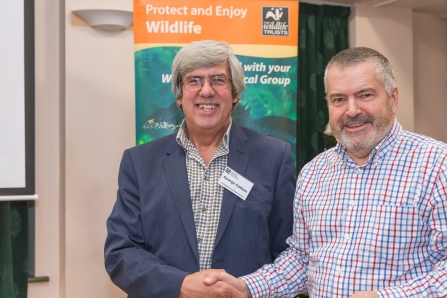 Thanks to all Huntingdonshire Local Group supporters whose fundraising efforts has once again allowed us to make a donation of £3000 to support the work of the Wildlife Trust BCN.
At the Annual Seasonal Miscellany meeting in December 2018 George Cottam, HLG Chair, presented a cheque to Kevin Hennessy, Wildlife Trust BCN Director for Business Development & Engagement.
There are 15 Wildlife Trust Nature Reserves in the Huntingdon area. They cover three of the main habitats that are especially important in this part of England including meadows, woodlands and wetlands.
Other past walks have included themed events such as Magical Meadows in 2008, Wonderful Woodlands in 2009 and Wonderful Wetlands in 2010.
During the last 8 years we have raised some £30,000 for the Trust. Our latest donation was £5,000, handed to former Director of Business Engagement, Oliver Burke, at our December Meeting.
We continue to organise summer walks and winter talks. See the events page for more.
Upcoming events with Hunts Local Group
Huntingdonshire Nature Reserves