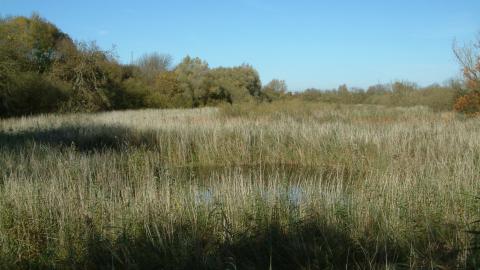 Open water, reedbeds and willows in a fenland habitat that was once a quarry
Know before you go
Access
Some gradients on path, rough in parts
When to visit
Opening times
Open all year round
Best time to visit
April to May
About the reserve
The water-filled pit was created when material was quarried in order to build the adjacent railway embankment and Five Arches bridge. The pit and the area surrounding it developed a rich variety of wetland features, from mature willows and dense scrub to reedbeds and open water. From the footpath there are views of the open water and reedbed through the branches of the willows. Along the stone surface of the path grow collared earth star fungus.
Many birds call this site home, including warblers and water rail. A long running recording scheme regularly records more than 30 breeding bird species. Occasionally, marsh harrier and grey heron have been known to breed in the reedbed and willows.
To maintain the wetland, we coppice and pollard areas of willow on rotation.
Species
Habitat