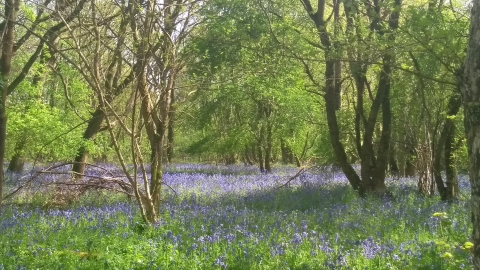 Following a site inspection on 2 February, site managers have decided to close Lady's Wood Nature Reserve to all users from Friday 5 February.
A prolonged period of wet weather with significant rainfall amounts has led to severe waterlogging, localised pooling and extensive churning of the path network from user footfall. These conditions will not improve in the short term and if continued access allowed, there would be severe damage to the wildflower interest of this precious site. Paths that are normally a few feet wide have now already spread to several metres in places as people try to avoid the deep mud or pools of water and this has caused trampling of the emerging primrose, bluebell and Dog's mercury stems.
It is likely that to be closed until mid-March at the earliest, but we hope to reopen in time for spring and the spectacular display of bluebells the wood is renowned for. We apologise for any inconvenience but hope that site users will appreciate these measures must be taken to preserve this nature reserve and the wildlife that it supports. 
Please read our access guidelines if you're visiting any of our reserves, and ensure you are following the Government guidelines on social distancing.
An ancient woodland filled with beautiful plants, insects and birds
Know before you go
Entry fee
No
Walking trails
Entrance is 600m from car park. Paths may be muddy in wet weather
Access
Not suitable for wheelchairs and pushchairs
When to visit
Opening times
Open at all times (currently closed please see announcement top of page)
Best time to visit
spring
About the reserve
Ancient in origin, historically Lady's Wood was managed as traditional coppice al though many trees were felled in 1951. Some trees were left lying in the wood and now provide a marvellous habitat for insects and fungi.
During April the wood becomes resplendent with the display of bluebells. Lesser celandine, greater stitchwort and dog's mercury are also on display.
Many birds have been recorded at Lady's Wood, including tawny owl and three species of woodpecker - green, lesser spotted and great spotted.   
Habitat
Environmental designation
County Wildlife Site