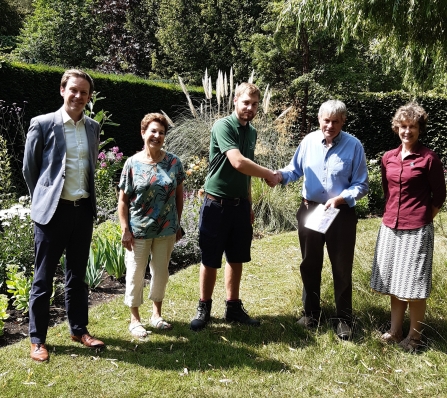 Wildlife Gardening at Work Awards 2021
Now Open!
Our Wildlife Gardening at Work Awards encourage and recognise companies and their employees who make a difference for wildlife. It's a great way to give your staff an opportunity to enjoy being closer to nature, connect as a team, and boost their wellbeing, especially after such long periods of social isolation.  And of course, nature really needs your help ….
Winners will be announced in Local Wildlife, our membership magazine, on our website, and through our social media channels.
30 Wildlife Gardening Challenges
To chime with our goal, as the movement of Wildlife Trusts, to secure at least 30% of our land and sea for nature's recovery by 2030 – we are challenging you to complete as many of our list of 30 wildlife gardening actions as possible. Ranging from setting up a window box or snapping a shot of a butterfly to creating a new wildlife pond or mini wildflower meadow, you can find our list of fun challenges in the resources pack and entry form below. 
The winner will have provided evidence of completing the highest number of these tasks effectively. Work as a team to tick them off or start a friendly internal competition to see which of your colleagues can most improve their garden for wildlife. 

This year's Wildlife Gardening at Work Award - 30 Wildlife Gardening Challenges - is kindly sponsored by Granta Park. 
Due to the ongoing Covid-19 crisis, we are again welcoming entries from the gardens of employees who are working from home. Encourage any colleagues working remotely to start improving their own gardens for wildlife or keeping an eye open for exciting sightings. We request that you then compile any individual entries together to be entered together as your company entry for this year's competition. Think how this could increase your organisation's chances…!
Get inspired...
Whether you're contemplating a large development or a more modest installation, creating a plan for your space will be time well spent. This is when you and your team can get really creative.
Making your wildlife area attractive to birds, mammals and invertebrates can be as simple or elaborate as you want it to be. Ideas could range from a ready-made bird or bug box fixed to a wall, to clearing an area of your grounds to build an insect hotel, a planting scheme, build a log pile or perhaps even create a pond. A wildlife garden can be created on even the most modest budget, and using recycled materials can be even better for your wildlife space.
We would like to hear about what you have been doing, what impact it has had and how you have engaged staff with the project. It doesn't have to be a huge change, as even small steps can make a real difference for wildlife.
See our website for easy-to-follow tips:
Wildlife Gardening tips and tricks 
Wildlife Gardening at Work resources pack
Any questions? Please email us at corporate@wildlifebcn.org
The closing date is Friday 25th June 2021
Good luck and let's get Wild About Gardens!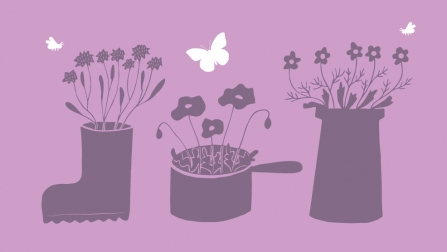 2020 Winners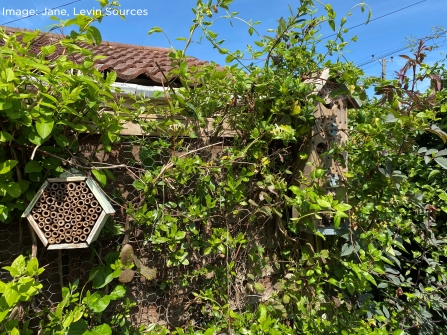 Levin Sources won the award for Best Wildlife Garden, for the combined efforts of Victoria, Olivia and Jane in their respective home gardens. They implemented a host of wildlife friendly gardening techniques from leaving patches of lawn to grow to installing an insect hotels (see right). The combined impact of the efforts in three separate gardens helped them to scoop their title.
Sarah Wilson, from the Northamptonshire NHS Trust, won the award for Best Home for Wildlife. She documented her garden's transformation after fire damage in 2018 in exception detail and the progress to a garden now thriving with life is truly inspirational. We especially liked her wildlife pond teaming with invertebrates and frogs.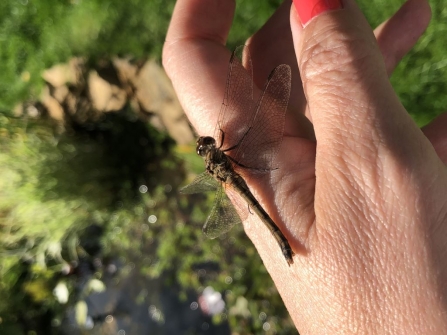 Sarah Wilson, from the Northamptonshire NHS Trust, also won the Best Wildlife Sighting award for her capture of this close encounter with a Common Darter.
If you would like advice on how to improve your workplace grounds for wildlife, please contact us for your free wildlife gardening guide.