Join our Big Wild Walk this half term
Get active, discover your local nature reserves, make memories and raise money for your Wildlife Trust! By taking part in the Big Wild Walk, you will be helping us on our mission to return 30% of land and sea back to nature by 2030.
For The Wildlife Trusts' new challenge, we want you to set yourself a walking challenge this October to raise money for The Wildlife Trusts. The level of difficulty is completely up to you: aim for 10,000 steps a day or push yourself to do 150,000 in seven days. - Let's help wildlife fight back!
What do I need to do?
Decide on your goal: this could be anything you like (e.g. steps per day or kilometres travelled.) Just try and make it a little more than you usually do so that you your friends are inspired to sponsor you, whilst you also reap the health and wellbeing rewards of spending more time in nature *You can check out some wildlife-themed suggestions below*
Set up your fundraising page on JustGiving using this form (scroll down for tips and help with this.)
Share your fundraising page with your friends and family, asking them to sponsor you (even asking 5 friends to sponsor £5 can make a difference for wildlife.)
Tag us using #BigWildWalk and @wildlifebcn on your social media posts to keep us up to date with your progress
Challenge ideas
Want to challenge Team BCN?
It's an active role working for the Wildlife Trust, our staff are constantly on their feet looking after reserves and monitoring local wildlife in our three counties. In fact some of our Reserves Team walk around 100 miles a week!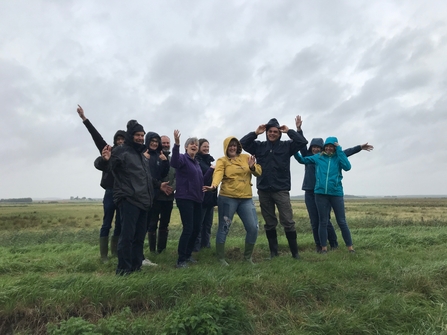 To support our 30-30-30 mission to restore wildlife, this half term Team BCN are aiming to walk 303030 steps for wildlife.
Brave team members will track how far they walk and share this each day as well as updating us on what wildlife they have seen. 
Think you can keep up? Challenge yourself or your team to walk like a Reserve Officer, match or beat our daily steps. But be warned, it might just get competitive! 
Sign a team up to the Big Wild Walk and challenge @wildlifebcn 
Or if you are feeling a little less mountain goat and a little more sleepy dormouse, why not sponsor the BCN team instead? Even £30 can help us make a big difference for local wildlife.
How many steps does it take?
Our huge team of staff and volunteers always put in the miles to help look after our local wildlife and wild places. Here are some examples, and some pledges, from staff around our Trust.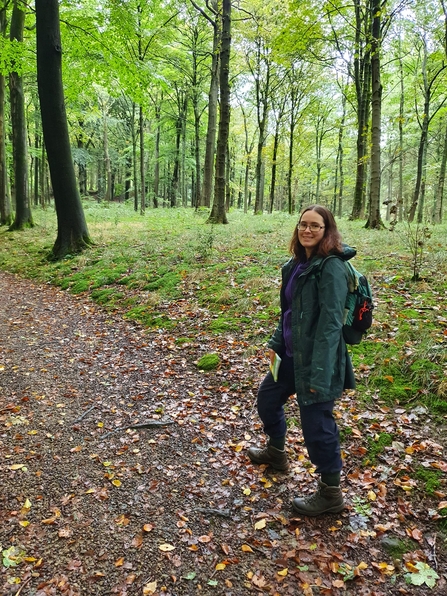 Monitoring & Research
Gwen Hitchcock, Senior Monitoring & Research Officer has pledged 30,000 steps.
"I feel very lucky that most of my survey work involves walking around our wonderful nature reserves looking for important plants and animals, or in some cases the evidence they leave behind. This week I will be finishing off our dormouse surveys for the year by looking for their prints in specially designed footprint tunnels."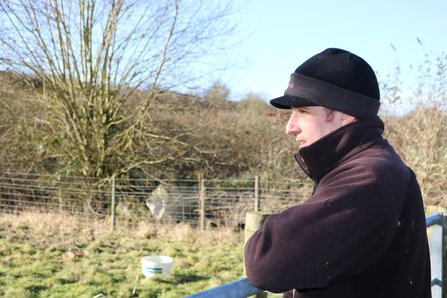 Looking After Livestock
Richard Knock, Bedfordshire Reserves Officer, has pledged a whopping 160,000 steps!
Ranging up and down the countryside around Totternhoe and Pegsdon Hills, his work involves a lot of brushcutting on the slopes and livestock management - checking on the various flocks of sheep and cattle used for conservation grazing on our reserves, ensuring miles of fence are in a good and safe condition and moving herds between sites, among many other things - and this kind of distance represents a typical working week. It takes a lot of dedication, and not all of it is just in walking, as his hand-rearing of two lambs earlier this year proved!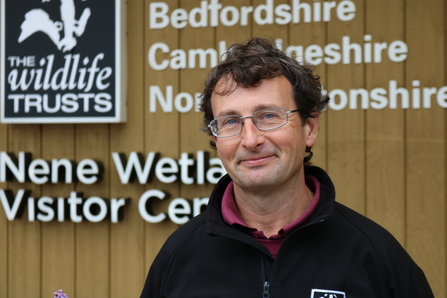 Managing Nature Reserves
Toni Castello, Senior Ranger at the Nene Wetlands, has pledged 80,000 steps.
"As a Senior Ranger based at the Nene Wetlands, one of our biggest and busiest nature reserves, walking is a huge part of my job and it's one of the things I enjoy most about it. There are miles of paths around the reserve, and this week – though I'll only actually be working for three days - I will be walking many of them, as usual, and checking whether the paths are safe for visitors or need some maintenance, on the habitats and how best they need managing for our wildlife and also watching for our returning winter wildfowl, whose numbers will be increasing over the coming weeks. I will also be meeting with external consultants about path upgrades and security at the Nene Wetlands, which will also involve showing them around specific areas of the reserve on foot. It's a joy to be able to get outside so much as part of my work taking care of this special place."
Useful tips for setting up your fundraising page and getting sponsorship
What should I put under 'my story'

It's good to make this section as personal as possible - what do you personally love about nature? And why do you think we need to stop it declining? You could add something about why this challenge is important to you? The last 6 months have been hard for many of us, but perhaps nature has helped you through? Or if you've been working from home, maybe you've not been as active as usual and you now need to re-find that balance.

After that, it helps to include a bit about where the money is going, and the impact it will make. You can steal that from us! 

The Wildlife Trusts mission is to reach 30% of land and sea connected and protected for nature's recovery by 2030.

Wildlife Trust BCN works locally in Beds, Cambs and Northants to help make that happen. But they need to do more if they are to protect nature's future. That's why I am asking you to sponsor me on my Big Wild Walk Challenge. All the money raised will be spent on protecting nature locally.

Donating through JustGiving is simple, fast and totally secure. Your details are safe with JustGiving - they'll never sell them on or send unwanted emails. Once you donate, they'll send your money directly to the charity. 
Discover local wild spaces