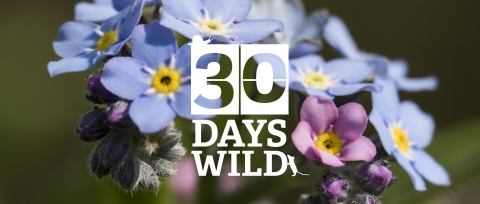 Go WILD with The Wildlife Trusts
Last June, over 400,000 people took part in 30 Days Wild. We challenged you to do something a little bit wild every day, and you did!  30 Days of fun, exciting and simple Random Acts of Wildness resulted in over ten MILLION Acts of Wildness all over the UK. But it doesn't have to end there.
Getting closer to nature is good for all of us. It can mean looking up at the clouds as they drift by, taking your shoes and socks off on the grass, learning more about the nature in your area, visiting your local nature reserve or showing your support for a Wilder Future by signing up to our campaign to urge government to do more to protect our natural environment.
You'll be able to sign up for this year's 30 Days Wild challenge from mid-April, so watch this space! You can also sign up to our e-news to keep up to date with all our exciting news, including 30 Days Wild. 
What is 30 Days Wild?
30 Days Wild is the UK's month-long nature campaign run by The Wildlife Trusts every June. 2019 was its fifth year, and broke all the records for numbers of people taking part!
From little actions (like stopping to smell a flower or taking a moment to watch squabbling sparrows in a hedge) to big things (like giving up single-use plastics for a month or writing to your MP about why nature matters), 30 Days Wild is all about re-connecting with the natural world and doing a little bit of good for wildlife.
We can't wait to get going for 2020 - but we can all Stay Wild in the meantime!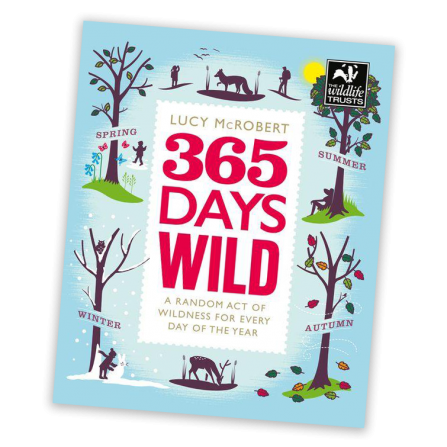 Need some inspiration to stay wild all year?
The brand new book 365 Days Wild is packed full of ideas and inspiration for wild things to do all year round. Let Lucy McRobert guide you to feeling happier, healthier and more connected to nature. On sale now from our online shop!
Who are The Wildlife Trusts?
No matter where you are in the UK, your Wildlife Trust is protecting and standing up for wildlife and wild places in your area. We connect local people to nature on their doorsteps; restore diverse wild places and look after thousands of nature reserves for future generations; and inspire people to take action for wildlife. We believe that everyone can make a positive difference to their local environment and that by working together we can achieve nature's recovery on land and at sea.
The Wildlife Trust for Bedfordshire, Cambridgeshire and Northamptonshire run events, workshops and open days all year, and have over 100 nature reserves across our three counties just waiting to be explored. Sign up for our free monthly e-news and keep in touch with everything we've got going on all year.
If you really want to support our work, why not join the Wildlife Trust BCN. If you pay by Direct Debit, you'll get a free book showing you all the best places to see wildlife near you, as well as our members' magazine packed full of inspiring wild stories and images from around the three counties.