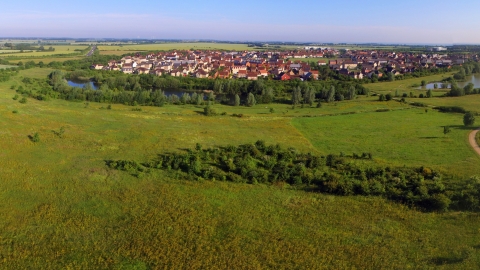 A wonderful mix of wildflower meadows, wetlands full of wildfowl and woodlands harbouring rare and special species, all interwoven around a new settlement outside Cambridge.
Know before you go
Parking information
Car parks are located at Oaks Wood on School Lane, behind the supermarket and near the Allotments on Brace Dein. Oaks Wood Car Park is closed at 8pm during summer time (BST) and 5pm during winter. It is opened by 9am each morning.
Grazing animals
In boundary meadows
Walking trails
See the map
Access
Gravel paths can accommodate wheelchair and pushchair access but other paths may become muddy in wet weather.
When to visit
Opening times
Nature reserve open at all times. Oaks Wood car park is locked at night.
Best time to visit
Anytime
About the reserve
Cambourne is home to the headquarters of the Wildlife Trust for Bedfordshire, Cambridgeshire & Northamptonshire. The nature reserve that surrounds the town is managed by the Trust.
Cambourne's combination of existing and newly created habitats shows that wildlife can be accommodated in a new development and enhance life for all residents. A surprising amount of wildlife dwells here, including badgers and deer in the woods and great crested newts in the ponds.
The grassland areas have been sown with wildflower seeds and butterflies and other insects dance over them in summer. Crow Hill supports farmland birds such as skylark and meadow pipit, while wetland birds and dragonflies enjoy the lakes.
A community orchard is planted with rare and local varieties including the Cambridge Gage plum and Chivers Delight apples. To encourage wildflowers, we mow the rides and cut back the grasslands.
Additional information
Fishing: Fishing is allowed on Lake Ewart with a valid rod licence from the Environment Agency and membership or day ticket from Cambourne Fishing Club.
Fruit varieties: a number of species of apple, pear, plum, cherry and other fruit trees have been planted in the community orchard. You can find a list here. 
Cambourne is part of the West Cambridgeshire Hundreds Living Landscape.
Scroll down to see the reserve boundary. Please note the boundary map is for indication purposes only and does not show the Wildlife Trusts definitive land boundary. 
FOR ANY MEDIA ENQUIRIES PLEASE CONTACT OUR COMMUNICATIONS TEAM:   communicationsteam@wildlifebcn.org or 01954 713500 and ask for comms team.
Species