250,000 miles of road verges that could support nature
430,000 hectares of gardens in the UK that could be wild
Meadows support 8x more wildlife than mown grass
70% of the UK is farmland that could help wildlife
Every space in Britain must be used to help wildlife.
A Nature Recovery Network
For many years we've known that nature reserves alone are not enough for wildlife's recovery. Too often we've seen wildlife forced into fewer and smaller pockets of wild space, surrounded on all sides by urban development or intensive agriculture.
Instead we need to create connected spaces across our landscape - in our towns and cities, on farmland, and in natural places - to give wildlife a chance to recover and adapt to pressures like climate change.
The Wildlife Trusts believe in a future Britain where nature is a normal part of childhood and where wildlife thrives across the landscape. Where our urban spaces are green jungles and our seas are bursting with life. Where seeing a hedgehog is an every day experience. 
We have put together our proposals for a Nature Recovery Network to put space for nature at the heart of our farming and planning systems; to bring nature into the places where most people live their daily lives. We need new laws, including an Environment Act passed by the Westminster government, to ensure this happens. In it, local Nature Recovery Maps would be produced to achieve key Government targets for increasing the extent and quality of natural habitats, turning nature's recovery from an aspiration to a reality. 
We are at a critical moment in history to help make this aspiration a reality. Right now, government officials are discussing and agreeing the contents of the proposed Environment Act - and it's our job to make sure they know that this is an issue that a huge number of people care about. And you can help, too.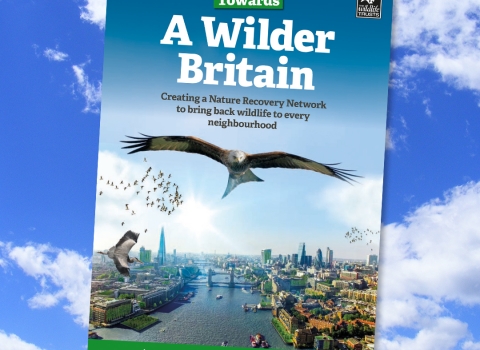 Towards a Wilder Future
Our report for the Westminster Government shows how creating a Nature Recovery Network could bring back wildlife to every neighbourhood
Read the report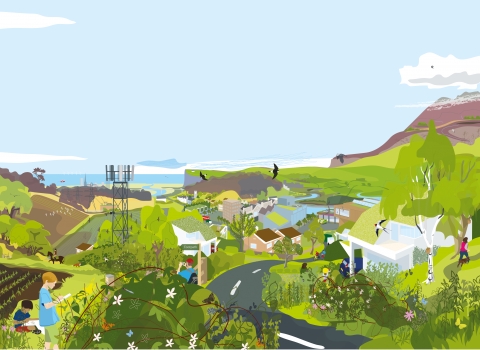 National proposals from the Wildlife Trusts
Find out more about the proposals for a Nature Recovery Network and the background and research behind them.
Read more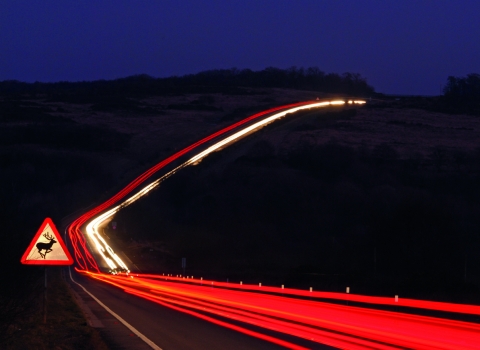 Why is nature in trouble?
More than half of the UK's species are in decline. Here is an overview of the main direct causes of significant trends affecting wildlife and habitats across the UK.
Read more
Creating Networks in Practice
We already think big in terms of our management of the land for wildlife in our three counties. We are aiming to build a Living Landscape across our three counties, connecting our sites together into a bigger, more joined up area and helping wildlife to move freely through the countryside without barriers. We manage nine Living Landscape projects at the moment, ranging from the Great Fen in Cambridgeshire to the North Chilterns Chalk in Bedfordshire and the Nene Valley in Northamptonshire.
For all of these projects, we work with other conservation organisations, local councils, businesses, farmers, landowners, churches and more to ensure that as much land as possible is managed with wildlife in mind, to help connect our wonderful nature reserves together with the wider environment - and with the people that live amongst and alongside it. 
A Nature Recovery Network would help us to think even bigger
With the backing of a progressive Environment Act, we could identify and confirm the absolute no-go areas for development - places like our Wildlife Trust nature reserves and the internationally protected areas of our coastline and rivers for example. We could then use this map to find the best opportunities to invest resources in to create the greatest benefits for wildlife and people - and help connect our Living Landscapes to each other, and to a nationwide network, too.
An example: Habitat opportunity mapping in Northamptonshire
Building a Nature Recovery Network that works for people and wildlife requires lots of evidence and information for central and local government to refer to when assessing any kind of development. Work has already been done across the country to build the groundwork to help inform these maps - including on our patch.
This is just one example of detailed work we've undertaken to map opportunities for habitat creation with very specific goals in mind. It's the sort of work Wildlife Trusts are very good at, and which will prove vital in understanding how to map and plan for nature's recovery in the future.
Working with partners

In order to support our work in enhancing and connecting our Living Landscapes in Northamptonshire, we have worked with a wide range of organisations as part of the Nene Valley Nature Improvement Area partnership to produce maps showing opportunities to create new habitats for the benefit of both people and wildlife across the whole of Northamptonshire and Peterborough. 

The maps identify potential areas for the expansion of key habitats which are able to deliver particular benefits including biodiversity, the regulation of flooding and air quality, and people's access to green space. They can then be used to assist with the development of green infrastructure strategies and planning, giving decision-makers an evidence-based map to refer to when making these key decisions.
What's been mapped

Opportunities have been mapped to:

enhance biodiversity for three different broad habitat types (broadleaved and mixed woodland, semi-natural grassland, and wet grassland and wetland),
reduce surface water runoff (and hence flood risk),
reduce soil erosion and improve water quality,
ameliorate poor air quality, and
increase public access to natural green space.

The biodiversity opportunity maps highlight areas that are best located in terms of their connectivity to existing habitat patches and are therefore most appropriate from an ecological point of view. 
The results

A map of the Upper Nene showing where habitat creation would meet multiple opportunities (e.g. for biodiversity and water quality).

The different opportunity areas vary in their geographic location; the greatest opportunities for reducing water flow are situated to the west of the study area on hillier terrain, whereas water quality opportunities tend to be adjacent to water courses. Air quality and accessible green space opportunities are focussed in and around the major towns. 

Broadleaved and mixed woodland biodiversity enhancement is centred around Rockingham and Salcey Forests. The wet grassland and wetlands are focussed on the floodplain of the Middle Nene, whereas opportunities for semi-natural grassland are more spread throughout the area.

In addition to mapping individual opportunities, maps were also combined to highlight opportunities to enhance multiple services simultaneously. Planting woodland and trees, in particular, provides opportunities to deliver multiple benefits (such as reducing surface water runoff and improving air quality). Key locations for delivering these multiple benefits were around the edges of the major towns. Maps showing the combined opportunities for new semi-natural grasslands, and new wet grassland and wetlands were also produced.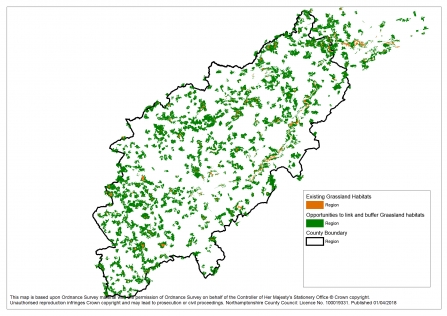 An example: Rebuilding Biodiversity in Bedfordshire
In Bedfordshire, the Wildlife Trust and Bedfordshire and Luton Biodiversity Recording and Monitoring Centre advised on a Green Infrastructure Plan to provide the foundation for developing sustainable communities across the region.
With the county's population set to grow significantly, the plan is part of an effort to ensure our environment is protected and sustained for current and future generations to enjoy. Linking with similar plans in adjacent counties, the plan is designed to help create sustainable communities, well served by greenspaces and green routes with access to the countryside on the doorstep.
It is a local demonstration of exactly the sort of work that can be called upon, and built upon, to create a nationwide Nature Recovery Network that is backed up by an Environment Act that ensures organisations and government are legally obliged to ensure it happens.
The vision for Bedfordshire and Luton

The vision is to create a high quality green network across the county for people, places and wildlife, delivering a comprehensive strategic network of multi-functional greenspace and linking corridors.

A number of organisations joined forces to detail the county's existing green assets and access routes and set out how these assets might be enhanced - and where the creation of new green spaces might best be targeted for the benefit of wildlife and people.

The plan is designed to help shape the county's future, alongside and integrated with aspirations for housing, transport, employment and economic growth.
What's been mapped

Reproduced here by permission of the Bedfordshire Local Nature Partnership, and originally produced for the Beds and Luton Green Infrastructure Plan

As well as mapping existing green spaces ranging from Sites of Special Scientific Interest to hedgerows, ditches and disused railways, the map also shows a wide range of opportunities for action to enhance the following aspects of our green infrastructure:

Landscape – conservation and enhancement of important landscapes
Biodiversity – new habitat creation alongside enhancement and better linkages for wildlife
Historic environment – improved management, public access and interpretation of heritage assets
Access routes – improved connections across the county for walkers, cyclists and horseriders
Accessible greenspace – enhancement of key sites and greenspace creation in areas of deficit
Next steps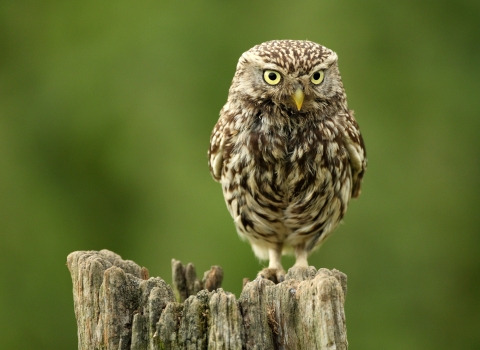 1. An Environment Act
We need a new Environment Act, passed by a Westminster Parliament. This would commit future governments to increasing the diversity and abundance of our wildlife, making it a bigger part of everyone's daily lives; and to improving the health of our air, soils, rivers, seas, and consequently, people. This Act would build on the foundations of existing wildlife laws. It would be about nature's recovery and rebuilding society's connection to the natural world.  It will need to ensure that regulation, investment, public spending and practical action work effectively together.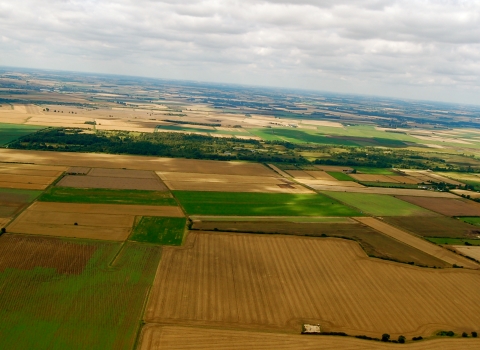 2. Nature Recovery Maps
Building a Nature Recovery Network requires detailed information: where wildlife is abundant or scarce; where it should be in future; which places are most important; and where there is opportunity for positive change. The critical tool is a Local Nature Recovery Map. Government must require Local Authorities to publish these maps, which would identify areas where the greatest benefit for wildlife and people can be achieved. They would focus and co-ordinate effective action, funding and regulation.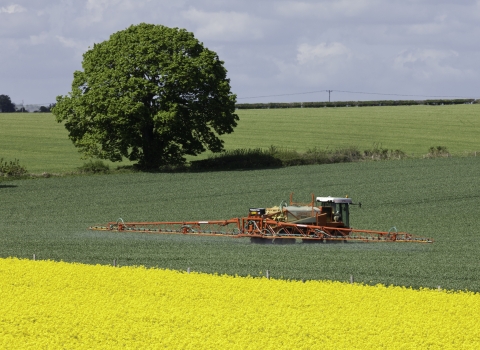 3. The People to Make it Happen
People and organisations from all corners of society will need to be called upon make space for nature. This will include land managers (such as farmers and foresters), developers and investors, public bodies and regulators. All of us have a role to play. We can help by taking action for, and providing space for, wildlife where we live and work.
Take action for wildlife now
We know that nature reserves and all the larger areas of land we manage and advise on are vital for wildlife. But so are gardens, churchyards, road verges and public parks. Letting a patch of your garden grow wild to support invertebrates, planting a wildflower mix in a window box, putting up a nest box and encouraging your child's school or your local church or park to do this too is just as important. There are lots of small actions you can take for wildlife listed here.
Latest updates
News and comment from around the Wildlife Trust movement