Go with the Flow Appeal
Please help us keep our rivers and streams in the best conditions for wildlife to thrive.
Waterways – the ultimate wildlife corridor
Rivers and streams make our landscape so picturesque: what could be lovelier than a riverbank on a warm summer day, with ducks and swans lazily drifting on the current while dragonflies flit overhead. It is a quintessential image of the English countryside. We are extremely fortunate that our three counties contain such a wealth of waterways: from the winding rivers of the Nene and the Great Ouse to the globally rare chalk streams of the Upper Cam and the wide landscape of the fens. 
Connecting like arteries, our waterways aid the movement of wildlife by providing safe habitats. Rivers, streams and brooks offer food and shelter for birds, mammals, invertebrates and amphibians. Sadly, these delicate and fragile environments face many challenges, from pollution and over-abstraction to disappearing floodplains and non-native invasive species, all of which have a detrimental effect on the native wildlife so dependent on them. Water voles, iconic species of our riverbanks, have undergone one of the most dramatic declines of any wild mammal in the last century, with a loss of over 95% across their range.
(Header image - The River Great Ouse at St Neots)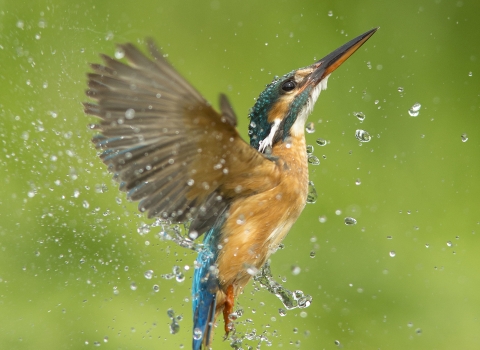 The River Great Ouse
The Great Ouse rises in South Northamptonshire, passing into Buckinghamshire before flowing through Bedfordshire and Cambridgeshire. It is the fourth longest river in Britain. The huge catchment of the Great Ouse connects notable places in our area like Bedford, St Neots, Huntingdon, St Ives and Cambridge. Despite habitat loss through agricultural intensification and urban development, parts of these waterways are still lined with reedbeds, willow trees, alder carrs, floodplain meadows and wetland plants, creating natural havens for wildlife. There are many important nature reserves along the Great Ouse, including the internationally important Ouse Washes in Cambridgeshire.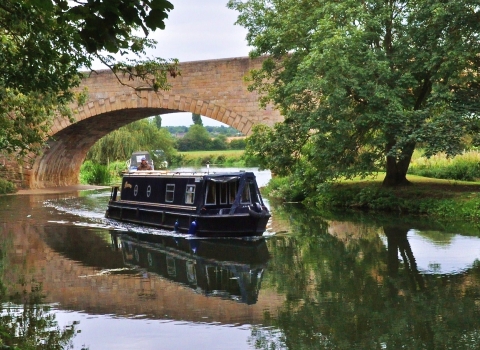 The River Nene
The River Nene flows out of the hills in West Northamptonshire through a long valley that stretches the length of the county to Peterborough. The Nene and its numerous tributaries and wetlands form a connected landscape that provides a haven for a wonderful mix of wildlife. With wildflower meadows, wetlands, marshes, woodlands and wet grasslands, its diversity of habitats makes the Nene Valley one of the most important sites for wildlife in England. Not only that, it is internationally renowned for its variety of over-wintering water birds such as curlew, lapwing, wigeon, golden plover and gadwall.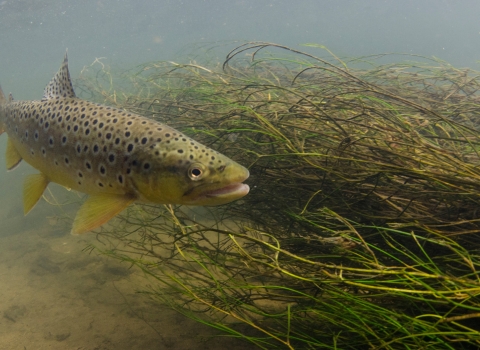 Chalk Rivers
With clear water and diverse plants, the best chalk rivers support a wealth of invertebrates and fish; England's chalk rivers and streams are world famous for trout and salmon fishing. Only 200 chalk rivers are known globally, 85% of which are found in southern and eastern England. In our region, tributaries of the Ouse such as the Mel, Shep, Granta and Hoffer and Cherry Hinton Brooks, are good examples of chalk streams. Numerous winterbournes – streams that are full in the winter but run dry over the summer months – bisect fields and villages.
Surveys
Surveys are a crucial element of our river work. They inform our practical conservation work, dictating where intervention is needed, and monitor the outcomes of our work. We carry out a range of surveys from mammals, to plants and invertebrates. Aquatic invertebrates are like the canary in a coal mine for rivers, especially chalk streams. Each site we monitor is assigned a trigger level by the Environment Agency and if numbers fall below this level then they act to investigate.
Water vole numbers have declined dramatically over the last 100 years with a loss of over 95% of range. Bucking the trend, through our work in partnership with the Countryside Restoration Trust in Cambridgeshire, numbers have been increasing in the Cam catchment area. The Fens, with its huge interconnected network of ditches, is also a key habitat and our surveys show the population has been stable over the last 10 years. However, if we are to aid the recovery of this enigmatic creature across all of our three counties, we need to know where they are and what habitat remains. It can take two people a whole day to cover a 4km stretch of riverbank looking for signs of water voles.
Go with the Flow
Please help us keep our rivers and streams in the best conditions for wildlife to thrive
Volunteers
With only two Water for Wildlife Officers covering the huge network of rivers and streams across Bedfordshire, Cambridgeshire and Northamptonshire, much of our river work is only possible with the dedicated support of volunteers. Local river groups, independent groups we work closely with and support, spend time getting to know their river and their local landowners. They carry out labour intensive invasive species removal, as well as surveying water voles and riverfly monitoring.
Costs
Healthy rivers are important, not just for wildlife, but also for people. Our Water for Wildlife Officers are part funded by Anglian Water but we need further help to support their roles, the equipment we use on a regular basis, and the costs of practical conservation work. Below is a sample of some of the things we need, why they are needed and how much they cost. Can you help us?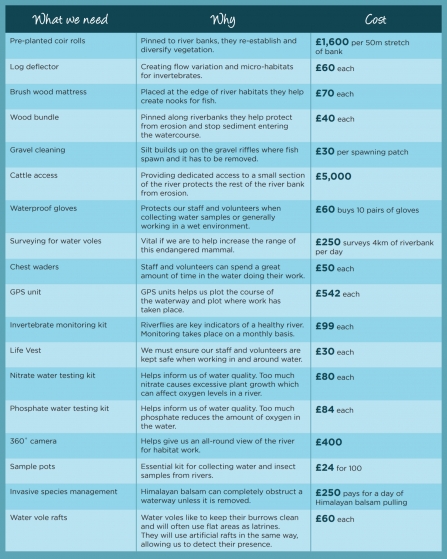 Go with the Flow Appeal
Please help us keep our rivers and streams in the best conditions for wildlife to thrive