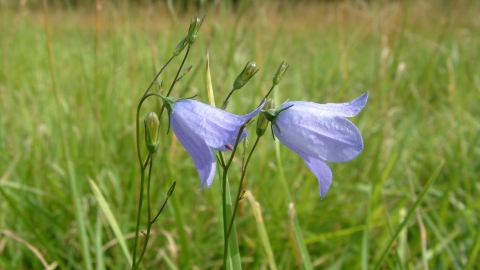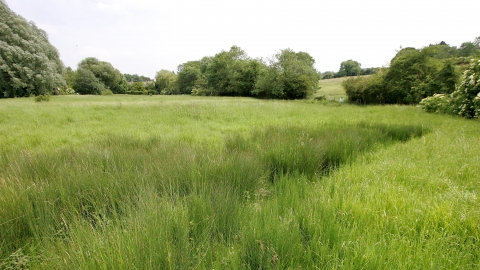 Wansford Pasture & Standen's Pasture
The main area of this SSSI reserve (including the permissive path) is currently closed until late September whilst sheep graze the site to help maintain this rare and valuable habitat for wildlife. (More details below)
A remnant of limestone grassland with species-rich springs and flushes
Know before you go
Entry fee
No
Grazing animals
Yes
Access
Site is a sloping, rough meadow with a narrow bridge to the south
When to visit
Opening times
Open at all times
Best time to visit
Summer
About the reserve
The richest areas for plants are the flushes dominated by blunt-flowered rush, with other species such as fen bedstraw, large bird's-foot-trefoil and distant sedge. Rarer wetland species can also be found, including large southern marsh-orchids as well as common spotted-orchids. This peaceful site has glorious views over the valley with our reserve at Old Sulehay Forest framing the ridge top beyond. As the fields slope down to the stream at the bottom, changes in the flora reflect the mixture of the drier limestone and neutral grassland with distinct wetter areas, marked out by the abundance of rushes and sedges. On the drier limestone grassland typical plants include cowslip, salad burnet and fairy flax. The brilliant purple flowers of musk thistle play host to Urophora solstitialis, a notably rare gall fly. In 2007 the reserve was greatly enlarged by the generous donation of land now known as Standen's Pasture.   The map below is for indication purposes only and does not show the Wildlife Trusts definitive land boundary.
August 2020 - Reserve management update
There are now sheep grazing at Wansford pasture until late September. To safely contain them a new fence line runs north to south on the west side of the site (effectively closing off the route of the permissive path running diagonally across the site from the public footpath to the site vehicle gate from Old Leicester Road: the kissing gate at this same point is now locked ).
The main area of Wansford Pasture SSSI Nature Reserve will remain closed while the sheep are on site to limit risk of dog/sheep interaction. Once the sheep leave, the gate in the new partitioning fence line will be opened to permit full access across the site by cattle (Highland Cattle will be arriving on site in late September) and the public (dogs on leads only).
The Public footpath route is still open and will remain so throughout the year. Access to the rest of the field will be available when sheep are not present, effectively 10 months of the year and certainly during the period of main floristic interest, with thousands of orchids on site.
Primary concern is for the management of the rare & valuable habitat for wildlife and the grazing animals welfare. Standen's pasture, adjacent to this site, is currently locked due to dogs running off lead, despite signs requesting them to be on lead; and an incident where a Trust member of staff was bitten. This will be reviewed in the future.
Scroll down to see the reserve boundary. Please note the boundary map is for indication purposes only and does not show the Wildlife Trusts definitive land boundary.
Environmental designation
Site of Special Scientific Interest (SSSI)