What is the Oxford-Cambridge 'Growth' Arc?
The Oxford-Cambridge 'Growth' Arc (or OxCam Arc) is an area between Oxford and Cambridge which has worryingly been identified as the location for one and a half million new homes, new road and rail links, and new places to work. 
The proposals for this Oxford to Cambridge Growth Arc, as they are currently being planned and delivered, simply won't work.
Without proper assessment, government cannot know whether the area could support the current proposals and stay within environmental limits for nature, carbon and water.
The current planning system does not address the needs of society when dealing with development on such a large scale. Today's climate emergency and extinction crisis require different thinking when it comes to planning and placemaking.
We want to see a strategic plan for the whole of the Oxford to Cambridge Arc instead of the current piecemeal approach. Managing water stress, transport pressures, housing requirements, climate obligations, and the need for nature's recovery can be done in such a way that people benefit from a thriving natural environment which supports healthy lifestyles.
The Oxford-Cambridge Expressway and why we opposed it
A rail route is better...

 ... but should also avoid sensitive areas.

We're also unconvinced that a new road is necessary at all, especially as the East West Rail project, which also aims to link Oxford and Cambridge, is making progress. It already exists from Oxford to Bicester and is approved from Bicester to Bedford. It could be much less damaging than a road proposal when it links to Cambridge.

The proposed routes for East West Rail have been improving, largely thanks to local lobbying. We would prefer a route that comes into Cambridge from the north, but if our concerns about a southern approach can be addressed, we think East West Rail has the potential (built right, with the right protections in place) to be a positive development for the environment, and to relieve the pressure for road development. A commitment to electrifying the full route would considerably reduce the carbon budget of the overall project, and provide a far more sustainable alternative.

Read more about our response to the 2021 East West Rail consultation, which closed in June 2021.
Environmental principles to put nature first
We believe that wildlife should be put front and centre of any development in the area. 
The proposals for the Oxford to Cambridge area must be designed to avoid harming the natural environment or exacerbating climate change.
It is imperative that wildlife and the natural environment are incorporated at strategic and master plan levels, actively avoiding damage and contributing to the delivery of a Nature Recovery Network and leaving a lasting, positive legacy for the environment. 
Together with Berkshire, Buckinghamshire and Oxfordshire Wildlife Trust (BBOWT); the RSPB; and the Woodland Trust we have jointly published a set of principles for protecting and restoring nature and tackling climate change as part of growth and development proposed for the Oxford-Cambridge Arc.
The key principles are:
Existing nature must be protected. Government must carry out an environmental assessment of the Arc proposals as a whole, protect existing sites and avoid the loss of irreplaceable habitats.
Nature must be restored across the arc. Government must establish a Nature Recovery Network to create bigger, better, and more connected places for wildlife. 
New standards must be set for sustainable development. It must all be carbon neutral, nature-friendly, and improve the lives of residents.
The charities are calling for any plans within the Arc to be subject to a Strategic Environmental Assessment involving public consultation, so that the full impacts of plans can be seen and discussed. To date, the plans have developed in a piecemeal way preventing proper scrutiny. The environmental principles require plans to be made public so they can be challenged where necessary and nature put first. Any development that takes place across the Arc must avoid damaging nature, and instead be actively beneficial.
The environmental principles emphasise the importance of access to nature and natural greenspace for the health, well-being, and resilience of people and communities. If Government are committed to development in this area, these environmental principles must be at the heart of the project, and set a new standard for sustainable development that will benefit wildlife, tackle climate change and build healthier neighbourhoods for people. 
These principles do not endorse any growth unless it is properly scrutinised at the earliest stages of planning and shown to be sustainable. The NIC's push for a million new homes in the Arc and the Expressway proposals are unlikely to survive that scrutiny.
You can explore the full set of proposed environmental principles on the RSPB website.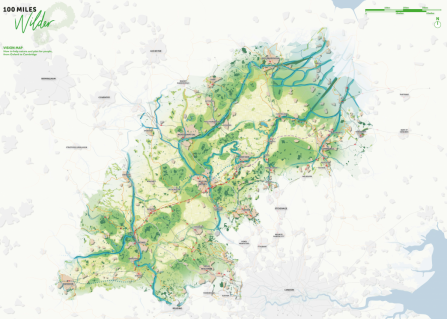 100 Miles Wilder 
At the start of 2020 we launched our alternative vision for the area - 100 miles of wilder landscape in which to live, work or visit. Our vision map demonstrates a new way of thinking about how places should be planned: with nature and people's wellbeing at the centre. This is a solution fit for the 21st century.
Get all the latest campaign updates
We'll send you regular updates about the Wilder Future campaign, plus news and information about ways you can get involved with our other campaigns for local wildlife.