The Nene Valley sits within the second largest growth area in the UK with a population increasing at twice the national average. It also accommodates many of the main transport corridors for the region (M1, A1 and A14). The proposed plans for the area promote high levels of housing and employment growth including several large Sustainable Urban Extensions (SUEs). Growth and development currently presents the single biggest threat to the future of the Nene Valley. Yet if designed well, this growth could also be the biggest opportunity we have for creating new accessible green spaces and wildlife habitat along the Valley.
The Nature Improvement Area employed a 'Natural Development Officer' between 2012 & 2015 who worked closely with planning officers and developers to ensure that planning policy gives robust protection for the natural environment and accessible green spaces, and that new developments protect and enhance the landscape in which they sit. The Natural Development Officer worked with other project officers to develop a list of suitable projects that need to be delivered by development in order to prevent loss of biodiversity and green spaces. These projects are now being followed up by NIA partners.
We believe that everyone should have access to good quality natural greenspace near to where they live. This provides a broad range of benefits to people and the quality of their lives. Access to natural greenspace in the Nene catchment was been mapped in 2013, and showed a significant deficiency. Part of the standard requires everyone to have one accessible site of 500 hectares or more within 10km of home. At that time none of the residents in the Nene Catchment (including Northampton, Peterborough and Corby) have this.
By connecting nature reserves across the Nene Wetlands and Stanwick Lakes, we have provided a site over 500ha which is within 10km of Wellingborough, Kettering, Irthlingborough, Rushden and Higham Ferrers. A more detailed report of this is available to download below.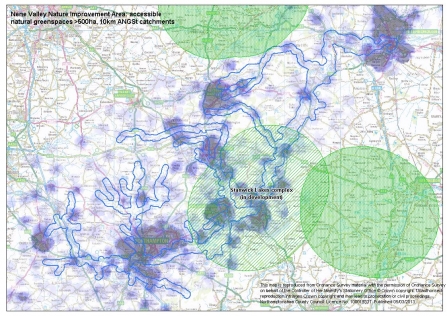 Findings such as this are being incorporated into Green Infrastructure Delivery Plans and Local Development Framework documents in Northamptonshire and Peterborough to support delivery of improved access to natural green spaces.
At the heart of this accessible nature network is the Upper Nene Valley Gravel Pits Special Protection Area (SPA). A Supplementary Planning Document for the SPA was produced to help developers and others to meet the legal requirements of the Habitats Regulations when applying for planning permission in or near the Nene Valley.
An SPA mitigation strategy has since been produced informed by the evidence base collated through the NIA. This planning document will mitigate against significant effects on the Upper Nene Gravel Pits SPA (the SPA) caused by an increase in visitors from new development. For more information on the SPA mitigation strategy see the case study below.
A summary of access to natural greenspace in the Nene Valley NIA
NIA Achievements Case Study: SPA Mitigation Strategy