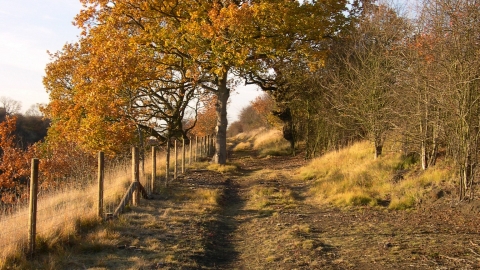 Sharnbrook Summit and Wymington Meadow
Two grassland reserves located near a rail tunnel
Know before you go
Entry fee
No
Parking information
Park on roadside in South Grove or on side of lane at turning towards Blackmere Farm
Grazing animals
Yes
Walking trails
Rough grass paths. No pedestrian access between the two reserves
When to visit
Opening times
Open at all times
Best time to visit
April to September
About the reserve
Sharnbrook Summit is situated on top of a mile long rail tunnel that runs alongside the main Bedford - Wellingborough line. Occasionally, trains still use the tunnel and can be felt rumbling underfoot and heard echoing up the ventilation towers, which are dotted along the reserve. The grassland has developed on the limestone soils excavated during construction of the railway and where rabbits graze the turf short there are still remnants of a richer flora from days gone by.
The delicate white flowers of dropwort, with the yellows of dyer's greenweed and wild liquorice emerge above the dominant tor-grass. The nationally rare grey mouse-ear retains a foothold on the slopes of the railway embankment. Scattered blocks of scrub increase the interest of the site by providing fruit, nuts and seeds, and shelter for small mammals and nesting birds. Birds of prey are often seen hunting along the Summit, including the kestrel and the buzzard soaring high on broad wings.
Wymington Meadow is a triangular area of land, between the main and branch lines of the railway. It is an area of flower-rich pasture, much of which has disappeared nationally, due to modern farming practices. The meadow was cut off when the railways were constructed in the 1850s and traces of the old ridge and furrow ploughing can still be seen towards its northern end. There is a small stream flowing through the reserve where plants such as wild angelica, rushes and the small blue flowers of brooklime appear along with water mint. The meadow itself supports a wealth of wild flowers including cowslip, salad burnet, quaking-grass, adder's-tongue fern and the distinctive flower spikes of green-winged orchids.
The mature hedgerows that border the site on two sides provides shelter for wildlife, almost containing the meadow in a time warp, where wild flowers and butterflies can flourish, isolated from the ravages of the modern world.   
Additional information
Scroll down to see the reserve boundary. Please note the boundary map is for indication purposes only and does not show the Wildlife Trusts definitive land boundary. 
FOR ANY MEDIA ENQUIRIES PLEASE CONTACT OUR COMMUNICATIONS TEAM:   communicationsteam@wildlifebcn.org or 01954 713500 and ask for comms team.
Environmental designation
County Wildlife Site