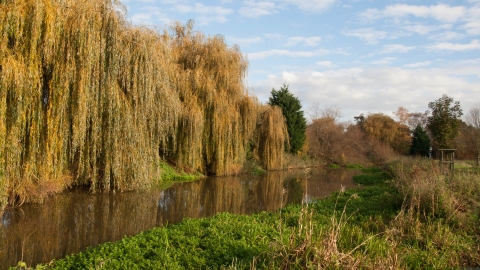 Riverside meadows with water vole
Know before you go
Entry fee
No
Grazing animals
Yes
Walking trails
Paths quite rough, best along the river banks
When to visit
Opening times
Open at all times
Best time to visit
April to October
About the reserve
These meadows are a remnant of the flood meadows that once would have bordered much of the River Ivel. The name comes from a small stream that trickles its way through the eastern end of the reserve. The meadows support a range of grasses and plants including the lilac-coloured blooms of cuckooflower or lady's smock.
The stream and ditches bordering the site are home to aquatic plants such as celery-leaved buttercup, water plantain and the aptly named arrowhead with its distinctive arrow shaped leaves held above the water.
Many birds feed in the meadows including lapwing, fieldfare and redwing, while sparrowhawks patrol the mature hedgerows. Common terns and grey herons can be seen hunting fish along the river banks, where you may hear the 'plop' of a water vole seeking refuge in the water and amongst the emergent vegetation. The manicured 'front gardens' of this diminutive mammal are best spotted in the spring, highlighting their nest burrows with paths to the water's edge.  
The Riddy is owned by Sandy Town Council.   
Additional information
Scroll down to see the reserve boundary. Please note the boundary map is for indication purposes only and does not show the Wildlife Trusts definitive land boundary. 
FOR ANY MEDIA ENQUIRIES PLEASE CONTACT OUR COMMUNICATIONS TEAM:   communicationsteam@wildlifebcn.org or 01954 713500 and ask for comms team.
Species