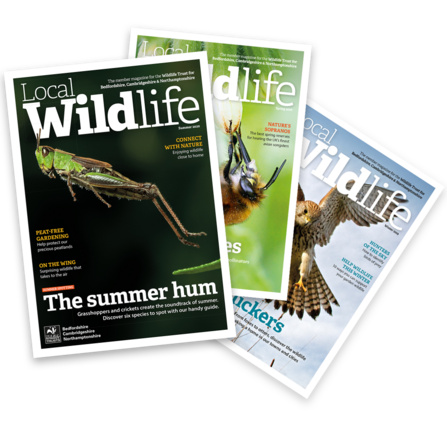 Local Wildlife Magazine is packed full of information, ideas and advice about your local wildlife in Bedfordshire, Cambridgeshire and Northamptonshire. From regular recommendations on nature reserves to visit to what wildlife you might encounter in your own garden, and how best to look after it; from all the latest news about the work we do to look after our wild places, and how our members help us to achieve it, to fantastic wildlife spectacles you can find on your doorstep.
Sent to our members three times a year in March, July and November, it's the best way to keep in touch with all the wild goings on, and learn a little about the wildlife we share our three counties with, too.
I read the winter Local Wildlife magazine over the break and have to say the magazines really have been excellent lately. It must be quite difficult to pitch the content at an audience that can include complete beginners through to seasoned wildlife experts, but you certainly don't dumb things down, which is great. I learnt some excellent new terms from the article about tracking winter wildlife. Well done.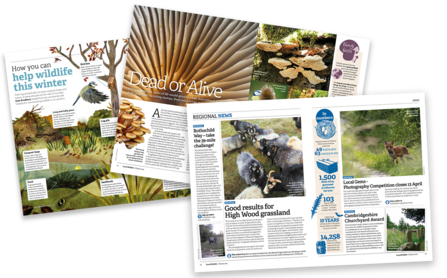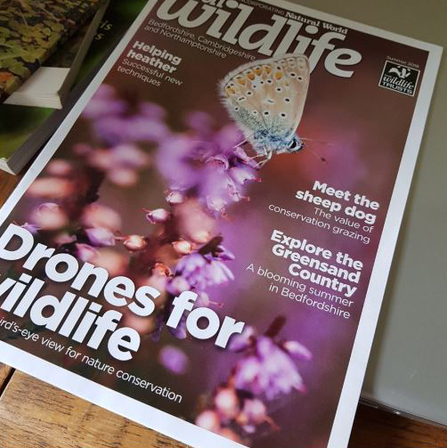 Few things fill me with as much joy as when this pops through my door. 
Jules Howard, @juleslhoward
A selection of past articles to read online
Packaging
Your Local Wildlife magazine is sent to you in a paper envelope, made from responsibly-sourced paper and printed with vegetable-based ink. It can be widely recycled, or composted, and will break down naturally if it finds its way into the natural environment.
Many areas in our three counties will not accept any sort of biodegradable plastic, including that made from potato starch, in the green bins. Whilst potato starch packaging will biodegrade over time the process is much slower, and sometimes unproven, if not composted. We have also found that if people accidentally dispose of the packaging with their plastic bag recycling, this can have a detrimental affect on that recycling process. And when the packaging is put into 'capped' landfill, it does not break down at all. It is a complex picture, but one that has led us to use the most natural source available to us - paper. As alternatives become available and technology changes, we will continue to assess this decision based on the best sustainable outcome.
Accessibility
Local Wildlife magazine is available as a digital accessible pdf upon request. Please contact the membership team for more information.