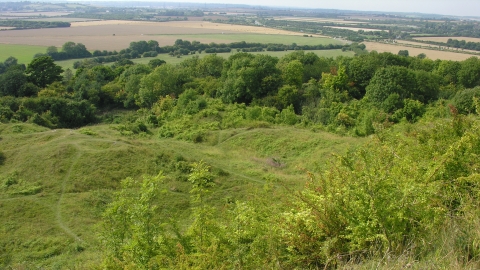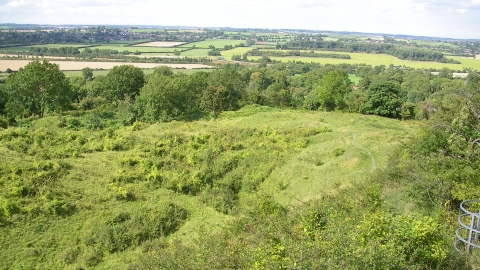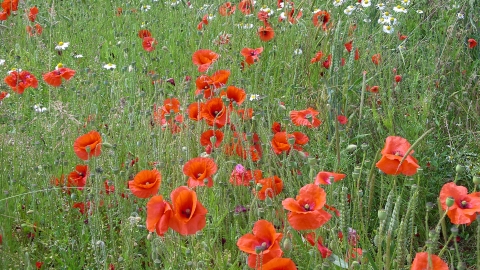 The result of medieval quarrying with an array of chalk-loving wildflowers
When to visit
Opening times
Open at all times
Best time to visit
April to September
About the reserve
Totternhoe stone is a strong, durable chalk, long used for buildings including Westminster Abbey. At Totternhoe reserve, spoil heaps left from long-ago quarrying have developed into impressive flower-rich chalk grasslands. Small-scale quarrying continues today to provide stone for historic buildings. The site is crossed by green lanes, which are old drove roads along which livestock would have been taken to and from Dunstable. 
At the Knolls, a motte and bailey castle lies just outside the area managed by the Trust, although the steep slopes of the ramparts form an impressive approach to the site. At the nearby old quarry workings, steep gullies create valleys along which stone would once have been brought from the quarries and from mines deep beneath adjacent fields. 
The chalk grassland is grazed – as it has been for centuries – producing a short turf that is low in nutrients, which has allowed the site to develop an impressive range of wildflowers. In spring, the grasslands show early signs of colour with cowslips and violets. In summer there is a wealth of orchids, from common spotted, man, fragrant and pyramidal, to frog orchid and the common twayblade.
Large anthills on the open grassland are home to the yellow meadow ant; green woodpeckers visit to feed on the insects and larvae. Cowslips are the food plant of the caterpillars of the scarce Duke of Burgundy, which prefers to lay its eggs on those leaves growing in the dappled shade of light scrub. Totternhoe is also the best place in the county to see the small blue butterfly. In the early evening hundreds can be found in the quarry edges.   
Additional information
Scroll down to see the reserve boundary. Please note the boundary map is for indication purposes only and does not show the Wildlife Trusts definitive land boundary. 
FOR ANY MEDIA ENQUIRIES PLEASE CONTACT OUR COMMUNICATIONS TEAM:   communicationsteam@wildlifebcn.org or 01954 713500 and ask for comms team.
Habitat
Environmental designation
Site of Special Scientific Interest (SSSI)