Hedgehogs are declining as fast as the tiger!
Sponsor a hedgehog with the Trust and help us protect our prickly friends. Your donation could help us restore habitats for hedgehogs and other wildlife on our nature reserves, or help us raise awareness of urban wildlife in local communities. We also run a hedgerow restoration project and record hedgehog sightings.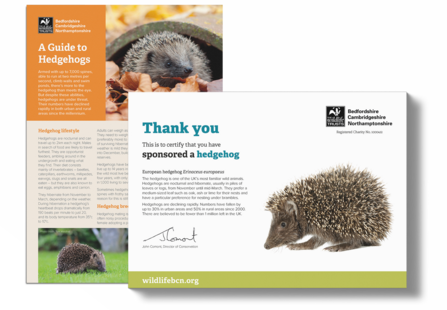 What's in the pack?
A sponsorship certificate 
A hedgehog factsheet with tips on how you can help hedgehogs
*Please note the certificates are not personalised
Sign up here to Sponsor a Hedgehog
It is just £15 to sponsor a hedgehog and you will be able to download your sponsorship pack immediately after completing the details below, making this a great gift which can be emailed the same day or printed and put in the post to delight a loved one.
Sponsor a Hedgehog
Support the restoration of vital habitat
Other Ways to Support Us
There are more ways you can help support hedgehogs and your local Wildlife Trust.