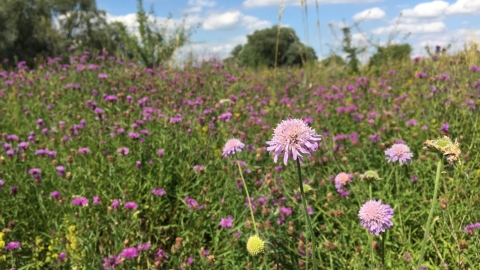 A spacious expanse of flowering meadows, riverside, woodland, hedgerow and parkland.
Know before you go
Dogs
Dogs must be on a lead in some areas, please follow signs at the reserve. Scroll down to see a video explaining where you can and can't walk your dog.
When to visit
Opening times
Open all year
Best time to visit
Throughout the year
About the reserve
This expansive nature reserve sits alongside the River Cam and Byron's Pool Local Nature Reserve, straddling both sides of the M11. Created for wildlife and for people, it is a place to discover and enjoy nature, explore diverse habitats and wander by the river and through flower-filled meadows. There is a Wildlife Trust office and garden, allotments, and a range of interpretation features and handcarved nature sculptures throughout the site.
Trumpington Meadows has been occupied for centuries. It has been home to Roman and Saxon settlements, a famous plant-breeding facility, a prisoner-of-war camp, coprolite pits and arable fields. There is plenty of natural space for walking, cycling and wildlife-watching. The flowering meadows are truly spectacular in summer, shimmering with wildflowers such as knapweed, field scabious, bird's foot trefoil, ox-eye daisy and salad burnet. Butterflies float over the meadow flowers, while dragonflies and damselflies dip and dance along the river. The riverside offers beautiful spots to walk and look out for otters and kingfishers. 
The area is replete with culture and history due to its connection to the river (where Lord Byron once swam) and nearby Grantchester, home to poet Rupert Brooke and frequented by writers, intellectuals and scientists. 
The grasslands are managed through grazing and haycutting to benefit wildlife. Hedges and scrub are kept in good condition through regular management and trees such as willow are pollarded on a rotational cycle. New gravel shoals have raised the river bed to narrow the channel and increase the flow, encouraging brown trout and other fish to thrive.
Additional information
We have a mobile app to help you explore the reserve - now available on iTunes and Google Play.
Scroll down to see the reserve boundary. Please note the boundary map is for indication purposes only and does not show the Wildlife Trusts definitive land boundary. 
FOR ANY MEDIA ENQUIRIES PLEASE CONTACT OUR COMMUNICATIONS TEAM:   communicationsteam@wildlifebcn.org or 01954 713500 and ask for comms team.
Dog zones
Senior Ranger Becky Green explains how the dog zones at Trumpington Meadows Nature Reserve in Cambridgeshire are designed to make the reserve enjoyable for people and their dogs while protecting wildlife.