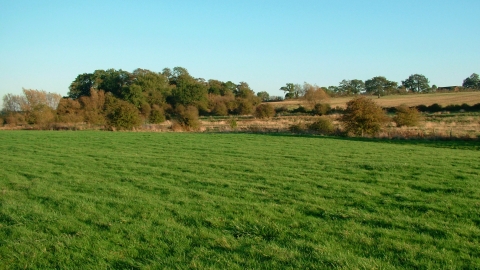 Traditional flower rich hay meadow on the banks of the River Ise
Know before you go
Entry fee
No
Grazing animals
Yes
Walking trails
Well-defined paths through the meadow, some areas become very muddy in winter
Access
Not suitable for wheelchairs or pushchairs
When to visit
Opening times
Open at all times
Best time to visit
April to September
About the reserve
Last century the River Ise was re-directed through a straightened, deeper channel that dried out the site and reduced the diversity of plant life. After several attempts the original channel along the reserve's southern boundary was reinstated in 2012 allowing the water to flow through the old channel once more. 
In summer, the reserve is alive with insects; butterflies and damselflies are the most distinctive. The red-eyed damselfly emerges from the water around mid-May and its flight season lasts until mid-August.You may see the adults resting on floating vegetation.
The grassland contains a diverse mix of wildflowers, including cuckooflower, which is a food source for the orange-tip butterfly. Lady's bedstraw adds a splash of yellow from July to August and pignut can also be seen. This is the food plant of the chimney sweeper moth, a small day-flying, black moth with white tips to its wings.   
Additional information
Scroll down to see the reserve boundary. Please note the boundary map is for indication purposes only and does not show the Wildlife Trusts definitive land boundary. 
FOR ANY MEDIA ENQUIRIES PLEASE CONTACT OUR COMMUNICATIONS TEAM:   communicationsteam@wildlifebcn.org or 01954 713500 and ask for comms team.
Habitat
Environmental designation
Local Nature Reserve (LNR)