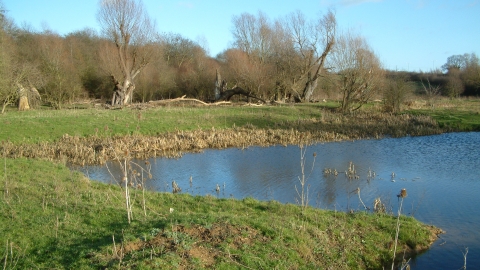 A spring fed marsh within a mosaic of grassland and scrub beside the River Ise
Know before you go
Entry fee
No
Grazing animals
Yes
Walking trails
Path generally level although areas can become very muddy and occasionally flooded during the winter
Access
Accessible for wheelchairs and pushchairs
When to visit
Opening times
Open at all times
Best time to visit
April to June, July to September
About the reserve
The River Ise was diverted when the A14 was built, and the former meander now forms a second channel. An old oxbow remains, dominated by meadowsweet and wild angelica. The main wetland area east of the ditch contains the majority of marshland plants such as lesser pond-sedge, slender tufted-sedge, and water forget-me-not. Reed bunting and sedge warbler can be found among the tall vegetation.
The grassland supports flowers such as purple-loosestrife and slender tufted-sedge. Collapsed willow pollards line the old course of the river, providing habitats for a variety of insects and birds. Their roots and hollow trunks are ideal resting places for otters. The only sign of these elusive mammals that most visitors will see is their spraints on the culverts.
The mosaic of habitats supports a variety of insects including soldierflies, craneflies and hoverflies. In the summer varieties of dragonflies and damselflies can be found along the river.  
Additional information
Scroll down to see the reserve boundary. Please note the boundary map is for indication purposes only and does not show the Wildlife Trusts definitive land boundary. 
FOR ANY MEDIA ENQUIRIES PLEASE CONTACT OUR COMMUNICATIONS TEAM:   communicationsteam@wildlifebcn.org or 01954 713500 and ask for comms team.
Habitat
Environmental designation
Site of Special Scientific Interest (SSSI)