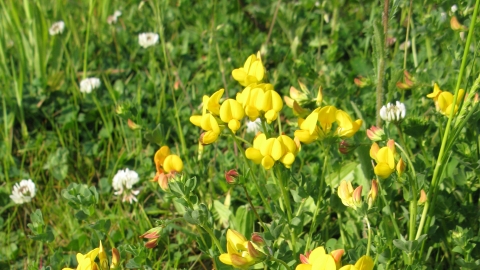 A traditional hay meadow rich in wild flowers
Know before you go
Entry fee
No
Grazing animals
No
Walking trails
Paths not well defined except for those at the entrace
When to visit
Opening times
Open at all times
Best time to visit
April to September
About the reserve
The wildflowers that thrive here today belie the fact that this was once part of a caravan park. Now, the delicate umbels of pignut flowers in spring are followed by the purples of common knapweed in summer attracting butterflies and other insects to feed. Walk through the meadow before its annual cut and you are taken back in time to when there were meadows like this found almost everywhere.
The mature hedgerow to the east is centuries old and is composed of a variety of native shrubs including holly. It leads to a small section of Sallowsprings Wood, but the remainder of the wood is not part of the reserve. Here yellow archangel and bluebell flower before the dense canopy of the tree leaves closes over in summer.   
Additional information
Scroll down to see the reserve boundary. Please note the boundary map is for indication purposes only and does not show the Wildlife Trusts definitive land boundary. 
FOR ANY MEDIA ENQUIRIES PLEASE CONTACT OUR COMMUNICATIONS TEAM:   communicationsteam@wildlifebcn.org or 01954 713500 and ask for comms team.