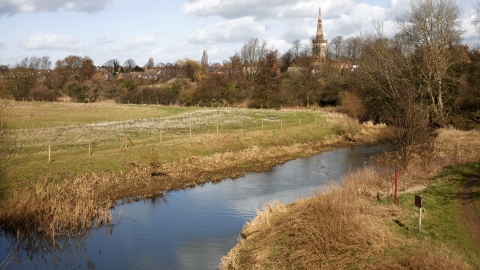 A picturesque series of meadows close to the heart of Northampton
Know before you go
Entry fee
No
Grazing animals
Yes
Walking trails
Paths generally level, main path is tarmac, minor paths can be muddy. Steps at entrance and on one bridge
Access
Unsuitable for wheelchairs
When to visit
Opening times
Open at all times
Best time to visit
April to June, July to September
About the reserve
This Local Nature Reserve lies between the Kingsthorpe and Kingsheath areas of Northampton on the Brampton arm of the River Nene, and is an important part of the green corridor network running through the town. Many species of dragonfly and damselflies, including the white legged damselfly, can be seen by the river and ponds. A variety of moths and butterflies can be found in the meadow. Sneezewort has been recorded on the riverbank and the meadows contain many species such as meadow saxifrage, great burnet and lesser stitchwort.
The river meanders through the reserve slowly in the summer in contrast to the winter months when it rushes through the reserve, regularly overflowing its banks and flooding over the meadows. Kingfishers can often be seen darting along the river feeding on the many small fish which can be seen in the shallow waters. There are also a number of ponds and wet areas on the site which attract waders such as snipe in the winter months. Areas of scrub and hedge provide cover for foxes and a variety of birds including cuckoos. 
Additional information
Scroll down to see the reserve boundary. Please note the boundary map is for indication purposes only and does not show the Wildlife Trusts definitive land boundary. 
FOR ANY MEDIA ENQUIRIES PLEASE CONTACT OUR COMMUNICATIONS TEAM:   communicationsteam@wildlifebcn.org or 01954 713500 and ask for comms team.
Species
Habitat
Environmental designation
Site of Special Scientific Interest (SSSI)