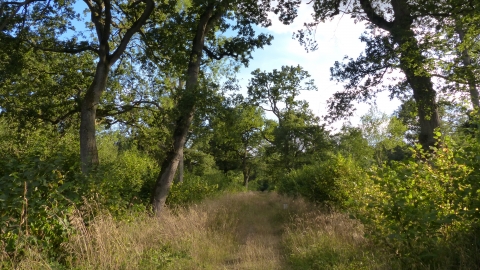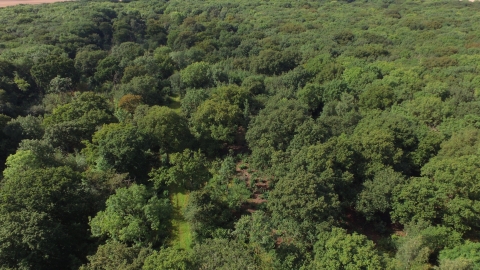 The northern part of the wood is now closed for woodland management work. Public rights of way surrounding the wood are still open and you can still access the wood via the southern entrance. Please take note of any signs you see. Management work will last for the next few weeks. We apologise for any inconvenience. Please see the map below.
An ancient coppiced woodland with a fantastic display of oxlips in the spring
Location
Know before you go
Entry fee
No
Parking information
Park opposite the water tower and walk 300m up Hayley Lane to reserve
Grazing animals
No
Access
Good level paths and wide main rides, can be very muddy in winter.
When to visit
Opening times
Open at all times
Best time to visit
Spring
About the reserve
October management work
This work, which includes tree felling and the use of heavy machinery, has been agreed with the Forestry Commission and Natural England. Felling trees and clearing brash will open the rides to more light, boosting the ecological diversity of woodland flora and fauna, such as wildflowers, pollinating insects, and woodland birds. Earlier in the year we appealed for donations with our Tough Love appeal, which raised funds for large scale conservation projects like this. Thank you to everyone who has supported our ongoing work to improve habitats for wildlife.
About the reserve
This ancient woodland is a treasure trove of spring flowers and archaeological clues to times past. It is still managed in a traditional way to this day. As well as the usual flowers, such as bluebell, wood anemone and dog's mercury, Hayley Wood is host to hundreds of species of fungi and thousands of insects and birds.
As you walk up Hayley Lane to approach the wood, the hedge on your left is at least 800 years old and in the winter groans with berries that sustain fieldfares and redwings. In the wood you will find a fence erected by the Wildlife Trust to protect most of the wood from the ravages of deer browsing. Although not in keeping with the landscape, it has reversed 20 years of decline in the oxlip population for which the wood is so famous.
This site is part of the West Cambridgeshire Hundreds Living Landscape Scheme.
A leaflet including a map of the Nature Reserve is available to download.
Scroll down to see the reserve boundary. Please note the boundary map is for indication purposes only and does not show the Wildlife Trusts definitive land boundary.
Habitat
Environmental designation
Ancient Woodland
Site of Special Scientific Interest (SSSI)