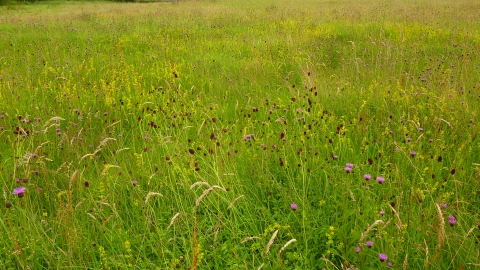 A small but attractive haven for wildlife and local people to visit
Know before you go
Entry fee
No
Grazing animals
Yes
Walking trails
Slight slope, meadow is tussocky with wet areas
Access
Unsuitable for wheelchairs
When to visit
Opening times
Open at all times
Best time to visit
May to July
About the reserve
This meadow is the best remaining fragment of the ancient field system of Great Oakley. The prominent ridge and furrow at the southern end has a different mix of species to the wetter, northern part. The drier tops of the ridges display a colourful mosaic of species, including cowslips, common knapweed and quaking-grass. The alternating damp furrows are much poorer in species with meadow fescue and tufted hair-grass dominating, while the area closest to the brook supports more plants characteristic of damp ground, such as cuckooflower, hairy sedge and great burnet.
The hedgerows are popular feeding grounds for birds. Buntings and finches, including yellowhammer, goldfinch and linnet are attracted by the plentiful supply of seeds and invertebrates. Flocks of redwings and fieldfares are regular winter visitors, foraging on both the grassland and hedges. On summer evenings, flocks of swallows, swifts and house martins feed on insects over the meadow.  
Additional information
Scroll down to see the reserve boundary. Please note the boundary map is for indication purposes only and does not show the Wildlife Trusts definitive land boundary. 
FOR ANY MEDIA ENQUIRIES PLEASE CONTACT OUR COMMUNICATIONS TEAM:   communicationsteam@wildlifebcn.org or 01954 713500 and ask for comms team.
Species
Habitat