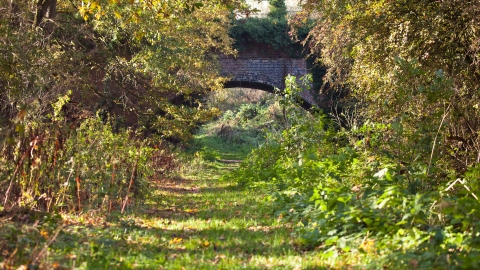 A former landfill site now transformed into an oasis for wildflowers and insects
Know before you go
Entry fee
No
Grazing animals
No
Walking trails
Steep steps at entrance; paths generally firm and level
Access
Unsuitable for wheelchairs 
When to visit
Opening times
Open at all times
Best time to visit
All year round
About the reserve
This small, amazingly diverse site is now a mosaic of developing woodland, open grassland and ponds. The meadows are improving each year as a result of better management with the return of some of the old meadow flowers such as lady's bedstraw, meadow vetchling and snake's-head fritillary.
The ponds and wet areas attract dragonflies and damselflies from the nearby lake and stream and in late July it is possible to find beautiful demoiselle damselflies in good numbers. There is also a colony of marbled white butterflies on the site.
Pipistrelle and noctule bats find an ideal hunting ground here. Among the birds are treecreeper, bullfinch, breeding sparrowhawk, several species of warbler and long-tailed tit. 
Additional information
Scroll down to see the reserve boundary. Please note the boundary map is for indication purposes only and does not show the Wildlife Trusts definitive land boundary. 
FOR ANY MEDIA ENQUIRIES PLEASE CONTACT OUR COMMUNICATIONS TEAM:   communicationsteam@wildlifebcn.org or 01954 713500 and ask for comms team.
Habitat