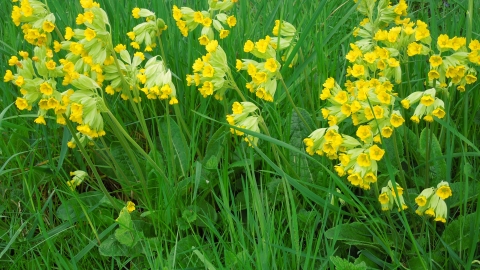 A 'ridge-and-furrow' meadow with a spectacular show of orchids
Know before you go
Entry fee
No
Parking information
Park in Chettisham village near the church. Follow byway across busy A10. After another 400 yards take left track at junction; reserve is 200 yards on left.
Grazing animals
Yes
Access
Long walk on rough track to entrance of reserve
When to visit
Opening times
Open at all times
Best time to visit
Spring and summer
About the reserve
A 'ridge-and-furrow' meadow with a spectacular show of orchids in spring
This reserve has been managed as a traditional hay meadow for over a century and is a Site of Special Scientific Interest. Ridge-and-furrow earthworks (remnants of ploughing from the Middle Ages) are still visible here. Many different fine grasses are found: sweet vernal-grass, red fescue, quaking-grass and yellow oat-grass.
During spring the meadows are full of cowslips and green-winged orchids. Ox-eye daisy, adder's-tongue fern and pepper-saxifrage are also found here.
Resident butterflies include orangetip, holly blue, marbled white, brown argus and small copper. Birds include bullfinch, long-tailed tit, willow warbler, cuckoo and blackcap. Lucky visitors may also catch a glimpse of barn owl hunting at dusk. The dense hedges around the meadows provide refuge for small mammals and insects.
The meadow is cut for hay and grazed by sheep. Seed from Chettisham is sown on other sites as part of the Coronation Meadows scheme. 
Additional information
Scroll down to see the reserve boundary. Please note the boundary map is for indication purposes only and does not show the Wildlife Trusts definitive land boundary. 
FOR ANY MEDIA ENQUIRIES PLEASE CONTACT OUR COMMUNICATIONS TEAM:   communicationsteam@wildlifebcn.org or 01954 713500 and ask for comms team.
Habitat
Environmental designation
Site of Special Scientific Interest (SSSI)