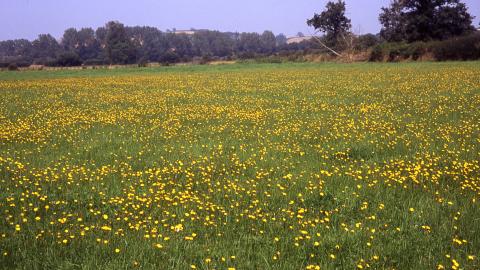 Possibly the most diverse meadow in the county, rich in wildflowers and insects
Know before you go
Entry fee
No
Grazing animals
Yes
Walking trails
Reserve prone to flooding and soft footing after rain
Access
Unsuitable for wheelchairs
When to visit
Opening times
Open at all times
Best time to visit
May to July
About the reserve
This small secluded reserve is a remnant of the grassland once common along the banks of the river Nene. Much of the southern half of the site is is spring-fed flush (mire) wet all year round, while the northern half next to the river is winter flooded. Much of the botanical richness is a consequence of these two distinct types of water source.  
The main ditch supports a number of water plants, including lesser spearwort and common spikerush, and there are patches of bright yellow marsh-marigold in spring. Also in spring, the small pink flowers of marsh valerian can also be found throughout the meadow, often in large numbers. In early summer there is a fine display of southern marsh orchids, a real treat to see in full flower.   
Additional information
Scroll down to see the reserve boundary. Please note the boundary map is for indication purposes only and does not show the Wildlife Trusts definitive land boundary. 
FOR ANY MEDIA ENQUIRIES PLEASE CONTACT OUR COMMUNICATIONS TEAM:   communicationsteam@wildlifebcn.org or 01954 713500 and ask for comms team.
Habitat
Environmental designation
Site of Special Scientific Interest (SSSI)