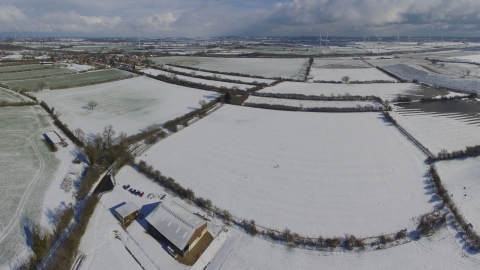 THE RESERVE IS CURRENTLY BEING CREATED AND WE HOPE TO OPEN IT TO THE PUBLIC IN SPRING 2022.
A new nature reserve currently being restored in the north west corner of Northamptonshire.
Know before you go
Grazing animals
Yes
Walking trails
Please be aware that this site is new and currently being restored for wildlife. The only public access is via the public right of way on Hillmorton Lane. Greater access will be made available once restoration work has been complete.
Access
Limited to public right of way at Hillmorton Lane. When the development of phase 2 is finished, there will be a number of circular walks taking in the various habitats on site. See map below.
Dogs
On a lead
Please be aware of livestock
When to visit
Opening times
Limited access via the public right of way at Hillmorton Lane is available at anytime.
Best time to visit
Anytime
About the reserve
This new nature reserve is the result of a partnership between the Wildlife Trust BCN and Prologis. Originally designed as an ecological mitigation zone, which will also help screen Lilbourne village from the Daventry International Rail Freight Terminal (DIRFT) expansion, Lilbourne Meadows was an opportunity to create a landscape that enhances the biodiversity of the area and will bring lasting benefit to the local community.
As a new nature reserve the Wildlife Trust is in the process of taking over management from Prologis and restoring the site for wildlife. There is still a lot of work to do on this huge site and so we ask that our supporters are patient during this time as access continues to be limited while large scale restoration work continues. 
Once complete this new nature reserve will provide a huge mixed habitat of wetland and grassland with extensive hedgerows. Already large flocks of birds have been utilising the newly created lakes and wet grassland, while the trusts rare breed sheep have been grazing the grassland pasture to help improve the habitat for wildflowers and invertebrates. 
The site is being created in two phases whilst the DIRFT is being constructed.  The Wildlife Trust has been closely involved in the design and construction of the whole site, from its conception, to make sure that it maximises the area for wildlife and are currently managing Phase 1 of the site.  
In Phase 1 all the old hedgerows and resulting network of fields, dating back to the enclosures act, have been retained. The Lilbourne volunteer group have started the massive task of restoring the hedgerows, by fencing, laying, coppicing and planting, to make them a far better habitat for wildlife. 
Two of the larger fields are now being managed with a traditional hay meadow regime to improve them for wild flowers.  Staff carried out initial botanical survey work in summer 2018 to give us an idea of where we are currently and give a good base line to improve upon.
The low lying, clay heavy soils were ideal for the creation of a network of ponds and wetlands.  These are now starting to mature and monitoring is showing fabulous results with the conservation classification index already showing a site of high conservation value, supporting several uncommon species.
The site also provides us with facilities for our conservation grazing operations; once again, we will be lambing the conservation flock of sheep in the barn at Lilbourne, which makes things so much easier and more comfortable for both ewes and the staff.
Additional information
Scroll down to see the reserve boundary. Please note the boundary map is for indication purposes only and does not show the Wildlife Trusts definitive land boundary. 
FOR ANY MEDIA ENQUIRIES PLEASE CONTACT OUR COMMUNICATIONS TEAM:   communicationsteam@wildlifebcn.org or 01954 713500 and ask for comms team.